- Sir Nils Olav III is honored as a brigadier, and he is a penguin
- This tradition has been continued since the adoption of Nils Olav the first
- The new brigadier stands as a symbol of Great collaboration Between Scotland and Norway
The king penguin, Sir Nils Olav, third of his name, was honored with the title brigadier by the Norwegian King's Guard.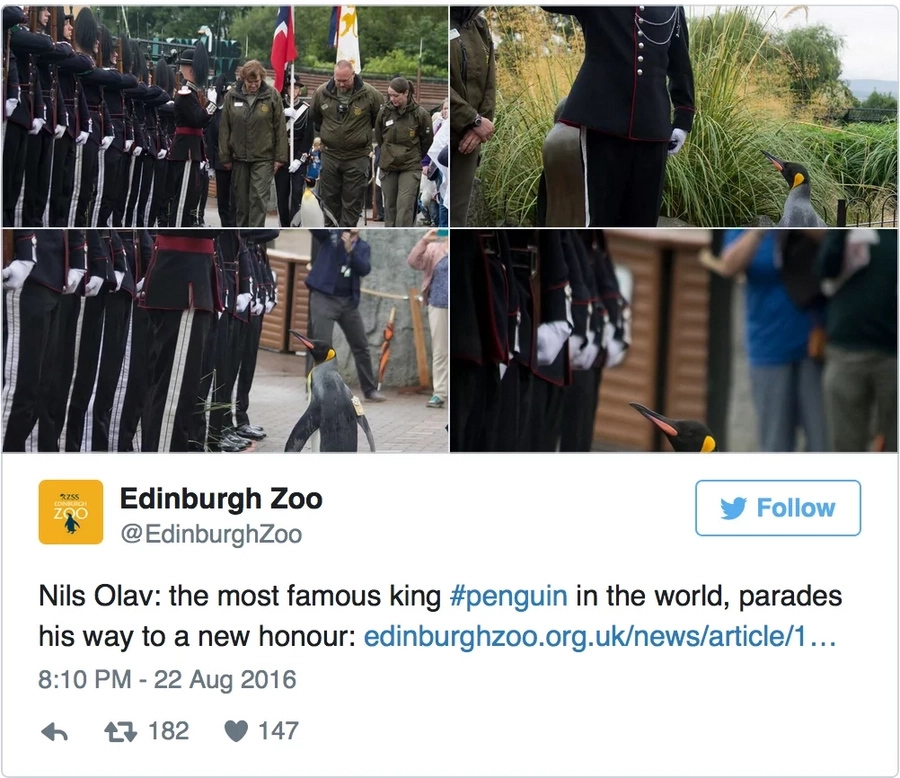 In 2008, the penguin gained its title of "sir" after being knighted by Norway. With the title Brigadier, Sir Nils Olav III has now moved higher in ranks.
READ ALSO: 10 Inspiring Filipino celebrities who went from RAGS to RICHES
Brigadier is a rank which connotes to the head of a brigade. Therefore, this penguin has gained a title which allows him to oversee thousands of men.
The ceremony was held in Edinburgh Zoo, Scotland. In honor of the ceremony, more than 50 Norwegian soldiers stood in attention of their new brigadier.
Before receiving his insignia, new brigadier Sir Nils Olav wobbled down the penguin walkway to inspect uniformed troops of the Norwegian King's Guard. He received his new rank and exchanged salutes with officers then continued his stroll down the row of soldiers.
READ ALSO: This crazy Russian girl stunning on top of skyscrapers is the most beautiful daredevil in the world!
This tradition has been continuing since 1972, with the adoption of Nils Olav I. The penguin's name was taken from Major Nils Egelien, who adopted the penguin into the Norwegian Army, and the late King of Norway, King Olav.
Ever since then, each consecutive penguin has gradually been given a higher rank. The highest ranks was given to Nils Olav III in this recent ceremony.
This ceremony does not only honor a 40 year old tradition but it also shows the good standing relations between Scotland and Norway. With Nils Olav III standing as the symbol of that good collaboration between the two countries.
Brigadier Sir Nils Olav III is loved by his follow Norwegian King's Guards. He is said to have gained this honor of brigadier through "outstanding service and good conduct", as stated by the Edinburgh Zoo.
READ ALSO: You'll cry when see this boy turning into a living human tree due to horrendous disease
With this new title and honor, this reminds us that brigadier Sir Nils Olav III is trusted more and honored more, by the King of Norway, than any of us. Now a brigadier, and maybe next time a general, this penguin is not going to be forgotten. Watch the video to see the amazing ceremony of Sir Nils Olav III. - Kami Media
Source: Kami.com.ph