- Senator De Lima presented the first batch of witnesses during the Senate inquiry on the spate of drug killings in the country
- The first witness said that her live-in partner and another family member were tortured and killed in police custody in Pasay
- Another witness alleged that 30 to 40 cops in Antipolo City supplied drugs to her parents before they were killed on June 20
Senator Leila de Lima presented the first batch of witnesses during the Senate inquiry on the spate of summary killings, linking cops to illegal drugs and some of the vigilante killings in recent months.
The first witnesses – Mary Rose Aquino and Harra Kazuo – both lost their loved ones in President Rodrigo Duterte's aggressive war against the illegal drug trade in the country.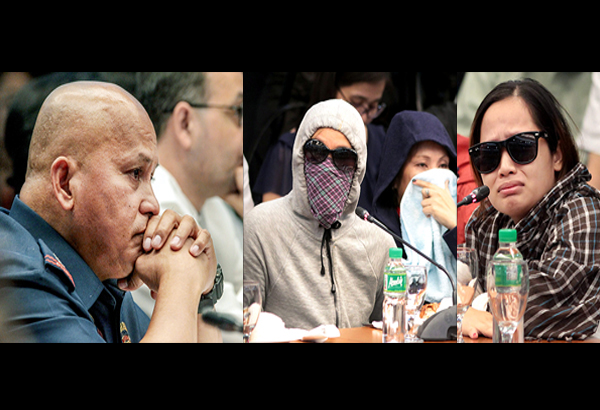 READ ALSO: De Lima's DRIVER to become a star WITNESS in House inquiry! What will he reveal?
According to Kazuo, her live-in partner Jaypee Bertes and his father Renato were tortured and killed on July 7, a day after their arrest in Pasay City.
Kazuo admitted that her loved ones were involved in selling and using illegal drugs but added that they did not deserve to be killed.
"My point is, not all drug addicts are bad people," Kazuo said.
She narrated that policemen entered their house and threatened Jaypee to give up his stashes of illegal drugs. The witness also claimed that Jaypee begged the cops not to kill him in front of his family and that he and his father were beaten up on the way to the police station.
At the station, Jaypee allegedly begged Kazuo to have him examined by the doctor to prove that he was beaten up by the cops. The father and son were then killed in police custody, allegedly after trying to steal a weapon from one of the cops.
"I felt weak because I saw how many shots my husband suffered, and his hand was broken," the witness said.
READ ALSO: VIDEO: Robin Padilla urges Duterte not to reveal DRUG users in showbiz; FIND OUT why
As for Aquino, she alleged that 30 to 40 police officers from Antipolo City supplied drugs to her parents and did pot sessions together at their home.
"The drugs they confiscate, they ask my Papa to sell. They bring drugs for my parents to repack… I see my Mama and Papa repack while the police do drugs," the witness narrated.
However, both of the witness' parents were killed after leaving their home on June 20 to bring P50,000 in cash to their alleged bosses from the police force.
De Lima has other witnesses to present in the coming days for the Senate inquiry on extrajudicial killings. She is also facing a possible House inquiry on the alleged proliferation of illegal drugs in the New Bilibid Prison (NBP) during her term as the Department of Justice (DOJ) Secretary. – Kami Media
READ ALSO: Duterte's order confuses Palace officials
Source: Kami.com.ph