- A giant pearl weighing 34 kilograms was turned over to the Puerto Princesa City Tourism Office after it stayed hidden under the bed of the owner for 10 years
- This is the biggest natural giant pearl so far found in Palawan and maybe around the world
- The current largest known pearl in the world was also found in Palawan
A 34-kilogram pearl is currently the talk of the town as it is now displayed inside the city hall of Puerto Princesa City Hall for public viewing after it has been kept safe and private by a gem owner for 10 years as a lucky charm.
The humongous pearl had been in a possession of a private citizen until it was passed on to a family member who happens to work at Puerto Princesa's tourism office in Palawan.
The gigantic pearl takes the shape of a giant clam shell and is now the center of attraction inside the atrium of New Green City Hall.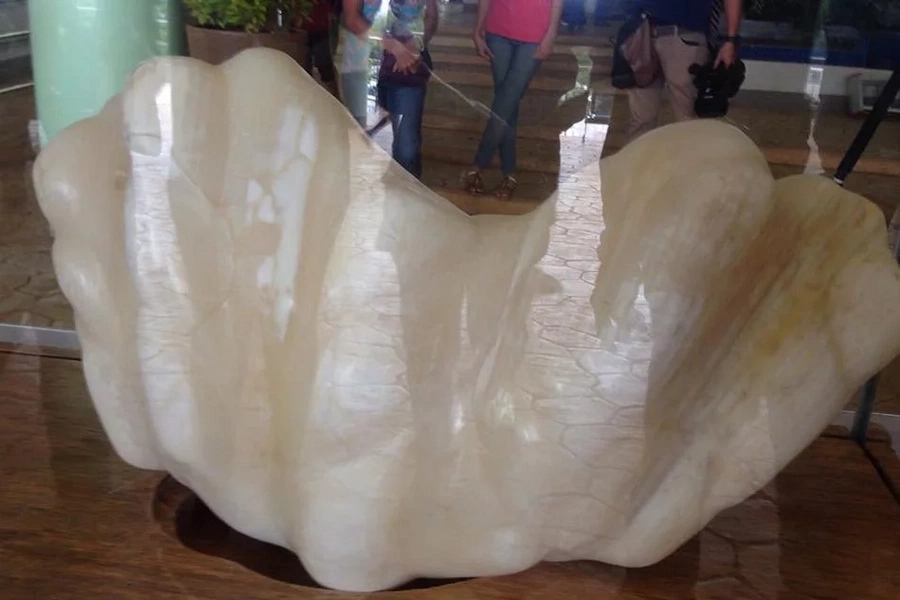 READ ALSO: Native cherry blossoms make its way to Puerto Princesa park
According to Aileen Cynthia Amurao, Puerto Princesa Tourism Officer, the pearl was hidden under the bed of the former owner, who is said to be her relative, and was considered to be a lucky charm.
She said that the man was out fishing decades ago when the shell got stuck on their anchor.
Amurao furthermore launched a worldwide appeal for "help from gemologists" to help authenticate the pearl.
On the other hand, the Local Government of Puerto Princesa is hoping that the "Pearl of Puerto Princesa" will bring them a new world record due to its unusual size.
"The Puerto Princesa City would likely earn another prestigious title and a record breaker for having the WORLD'S BIGGEST NATURAL GIANT PEARL FROM A GIANT CLAM (34 Kilograms) after being certified for its authenticity," Amurao said on her Facebook post, adding that "[a]ll recorded giant pearls in the world came from Palawan Waters."
READ ALSO: Lucky woman never expected to find these inside an oyster
The current largest known pearl in the world was also found in Palawan way back 1930s.
In 1939, a diver recovered the 6.4-kilogram Pearl of Lao Tzu, also known as the Pearl of Allah, in Brooke's Point Palawan.
Although this was said to have been overshadowed by Boracay's Pearl of the King, many have come to believe that the pearl still came come from Palawan seas.
Puerto Princesa is the capital of Palawan, the largest province in the country. Palawan, on the other hand, is located in the Mimaropa region. -Kami Media
READ ALSO: Where should Pia Wurtzbach take Miss Universe 2016 candidates around the country?
Source: Kami.com.ph