- A high-speed car crashed on a motorcycle in the wee hours in Caloocan
- The conditions of the drivers are unknown and the details about the accident are scarce
- Some people argued that the motorcycle is at fault since it is park on the roadside
A chilling accident involving a speeding car crashing to a motorcycle happened in Caloocan.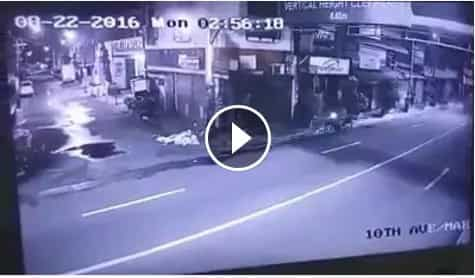 READ ALSO: Who's at fault for this traffic enforcer's freak accident?
In the video, a motorcycle with a man sitting on it was parked on the side of the road when a high speed crashed on the motorcycle and sent the man flying. Parts and pieces of the motorcycle were strewn all over the road. The conditions of both drivers are unknown.
Based on the details in the CCTV video, the gruesome accident happened at 2:56am of Aug. 22, Monday, at 10th Ave. in Caloocan City.
Some commenters argued that the car tried to evade the incoming tricycle causing the accident. Probably due to the speed of the car, the driver lost control of the steering wheel. However, it was almost 3am and the street is deserted.
READ ALSO: Watch this satisfying video of a bad driver getting instant karma!
Meanwhile, others think that the accident is intentional as the car did not hesitate in crashing the motorcycle. However, there is no way to verify this information.
Moreover, the street is quite dark and the dark color of the motorcycle could be another factor resulting to the accident.
Watch the video of the accident below and be the judge.
READ ALSO: VIDEO: Another road rage incident in Batangas goes viral