- Conor McGregor and Nate Diaz have both agreed to a third fight in the future
- McGregor defeated Diaz in a brutally epic fight during Saturday's UFC 200 event
- McGregor wants the third fight to be in the 155-lb division
After Conor McGregor pulled off a close win over Nate Diaz in their epic second fight inside the Ultimate Fighting Championship (UFC) Octagon, the two acclaimed fighters have verbally agreed to a third fight in the future.
Diaz won their first fight via submission in the second round while McGregor won the second via a majority decision in the UFC 202 main event on Saturday. Two judges gave McGregor 48-47 while another judge had the fight dead event.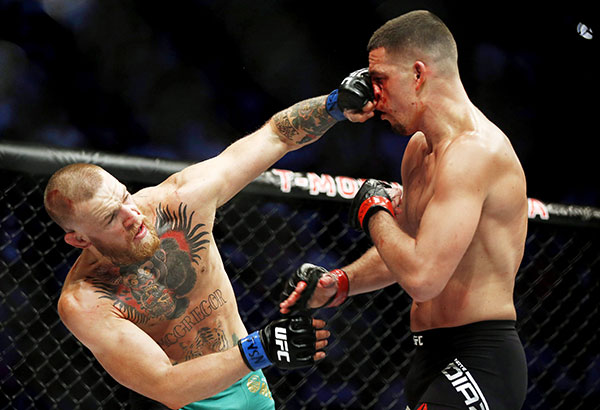 READ ALSO: VIDEO: 5 Most violent sports injuries; number 3 will make you faint!
The Irish superstar agreed to a third fight but with conditions.
"I came up to 170 to test the bigger man [and] face adversity. I want the trilogy, but it's on my terms. Come back to 155. Let's do it," McGregor said.
Diaz agreed to a third fight too but tried to justify his loss to a lack of training and some injuries.
READ ALSO: 10 Sports EPIC FAILS caught on VIDEO that will make you laugh!
"I came to this fight worse off than last time… I'm not making excuses, but you should have finished me off. I'm ready for [number 3]. I gave you [number 2]," Diaz stated.
When asked about going down to 155 lbs for their third fight, Diaz said that he had no problems with McGregor's condition since he had fought at 155 almost his entire UFC career.
"I will fight him at 155. It's all good," Diaz stated.
Diaz has now an MMA record of 20 wins and 11 loses while McGregor has 20 wins and 3 losses. The Irish fighter's most notable wins include a first round TKO win against Diego Brandao, a second round TKO victory over Dennis Siver, and the unforgettable first round KO of featherweight champion Jose Aldo. – Kami Media
READ ALSO: Arum fires back at HBO for snubbing Pacquiao's upcoming fight
Source: Kami.com.ph