- A 19-year-old student saved three people from drowning in a beach in Mariveles, Bataan
- The modern hero is identified as RJ Vacalares Jr., he was a graduating student and a soon-to-be automotive mechanic
- Despite saving three lives, RJ failed to save himself and drowned
Watch the video below.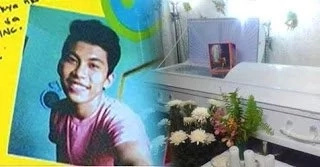 READ ALSO: Your heart will break when you find why this child carries bamboos from the mountain everyday
Heroes are not always legendary and mythological figures just like what we read in history books or watch in films.
This 19-year-old boy's heroism is incomparable.
RJ Vacalares Jr. who worked as an intern in one of the country's largest equipment supplier was about to finish college and graduate as an automotive mechanic.
READ ALSO: It was a beautiful wedding until the groom died hours after; still a dream come true
RJ, including his team, needed to visit the farm of their supervisor which is located in Mariveles, Bataan. Another reason for heading to the province of Bataan was to attend a celebration.
Based on reports and mainly according to the stories of his colleagues who were with him that time, they were about to leave on a  Sunday afternoon but an unpredicted tragedy transpired.
They were appealed to help people who were drowning in a beach close to where they were. Without any hesitation, RJ instantly headed to the coast and tried to give them help.
READ ALSO: Mother seeks justice for the death of her 7-month-old baby
The student saved the lives of the three drowning people. It was indeed good news and many were thankful for him. Their knight in shining armour, however, was missing in action after the rescue.  Everyone wondered where he was.
A while after the incident, the body of RJ was found lifeless. He drowned.
Very rarely do we hear news as that of what RJ has done. He risked his own safety just to save the lives of other people.
READALSO: Netizens cry after watching this sweet video of 3-year-old Julianna; bless her!
People in Bataan considered RJ a hero for the unequalled bravery and courage he showed. But most of all, he is a hero because of his altruism – his compassion to help and be concerned with the well-being of others before putting his own welfare first.
Meanwhile, the remains of RJ will be transferred to Misamis Oriental on Saturday. - Kami Media
Video from ABS-CBN News
RELATED: Vince & Grace were set to marry each other; the reason why her bride left him is heartbreaking
Source: Kami.com.ph