- Different institutions around the world have implemented their own techniques in order to prevent exam takers to cheat during their examinations
- Some use the conventional folders while others went over the top with their drones and as far as contacting police officers to supervise
- Not all exam takers agree with these methods but they still don't have a choice in the matter if they want to pass
For students, studying for an exam is probably the hardest part of being in school. Just imagine cramping all the information you've learned for months in a 2-hour test.
On a teacher's perspective, it's a whole new world. Aside from the challenge of coming up with an exam which could test your students' comprehension on the subject, there's the stress of making sure they won't cheat too.
It's not that they don't trust their students but it's more on making sure that they won't be tempted – even the slightest bit – to cheat. As it's remarkably known to be difficult to supervise more than 30 students when you're just sitting in front of a room, these techniques were implemented.
READ ALSO: 32 UP Diliman courses have no freshmen students. Where did they go?
Here are 10 over-the-top ways to prevent exam takers from cheating!
1. The Mini-Office
For students not to have a chance to peek into their seatmate's papers, three walls were created using two folders. The only downside is that given the privacy of the student, the teacher may not know if they're also hiding some cheat sheets in their 'mini-office.'
READ ALSO: This school in Cagayan de Oro banned romance between students; here's why
2. The wrap-around
Another use of folders is to wrap them around the pupil's head. For one, they can't peek through the side of their eyes and second, any strange movement of their heads could easily be noticed by the facilitator.
3. Supervise their cellphones
Confiscation of cellular phones before an exam is not new in order for the student not to peek into the internet for answers. To do this easily, the proctor can write the names of the children in the board vertically where each of them can leave their cellular phones and collect it right after taking the exam.
4. Flying teacher
As funny as it may look, it will be really much easier for the instructor to be in a higher place to supervise everyone in the room rather than walking around on one side and giving the people on the other side a chance to cheat.
READ ALSO: Students surprised teacher with box of kittens after her cat dies. Her reaction will make you cry hard
5. Eyes on your own paper
Quite similar to the wrap-around, the teacher will take pieces of paper and turn them into something like a habit. This was done in a university in Thailand which caused an uproar at the community but the opposite reaction was prompted from the students. According to them, the method actually helped them concentrate.
6. Metal detectors are not just for airports anymore
The traditional checking of bags and pockets was replaced by metal detectors usually seen at airports. Since some undergraduates have also started using wireless devices to exchange answers, another extreme measure has been observed in some institutions.
7. Drones instead of humans
In 2014, Thomas Moore College in Belgium started using drones to monitor exams. This didn't become a trend because drones could usually only last for 15 minutes and the teacher might end up concentrating more on how to control it rather than observing the exam takers.
READ ALSO: Netizens enraged by this offensive photo of STI students
8. Open-air examinations
The number of students in China forced them to sit closely to each other. However, this gave them a chance to easily share answers. In the end, the institute decided to put their desks in the playground where they are far away from one another while proctors roamed around the place.
9. Preparations for the college entrance exams in China
Just like in the U.S., China gives out college entrance exams to its 9 million students. Regulating them must be harder given their number that's why aside from surveillance cameras in every room, police officers were also there to facilitate. They were tasked to stand outside with their wireless signal detectors to detect any cheating devices as well.
READ ALSO: VIDEO: This honor student, choir member was KILLED for allegedly being a DRUG pusher
10. Indian Army examination
Probably, the most extreme in the list was observed in the military in India. For potential soldiers to get into the army, they were first stripped down into their underwear. Their hardships didn't end there as they still need to take the exams outside the scorching heat while sitting 8-ft away from each other.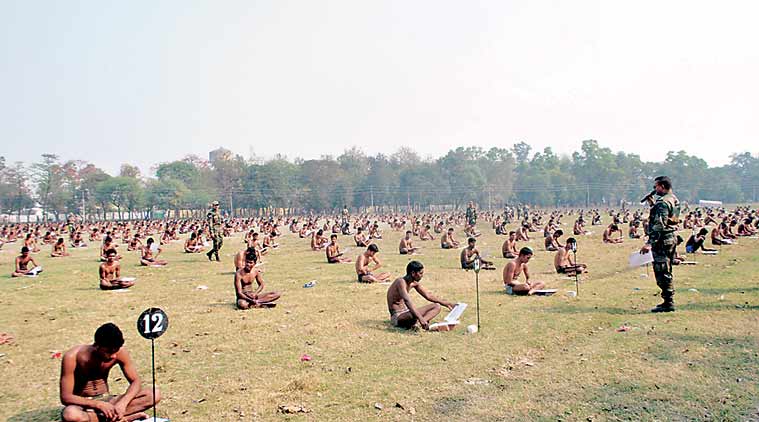 The punishment for students caught cheating varies in different institutions. Normally, the student will receive a failing mark in the exam, while others automatically fail them on the particular subject. If the pupil was caught in numerous instances, it usually resulted into an expulsion.
Source: Kami.com.ph