- Marcos' name on the 1971 Plaza Miranda bombing would be cleared by Lito Atienza on his privilege speech
- The former Manila mayor said that it was not Marcos' fault but that of  his chief political rivals
- Atienza further calls on the left-leaning members of Duterte's cabinet to support the President in his decision
House Senior Deputy Minority Leader Lito Atienza is bound to deliver a speech that would prove that Marcos is not the one responsible for the 1971 Plaza Miranda bombing which caused the death of 9 people.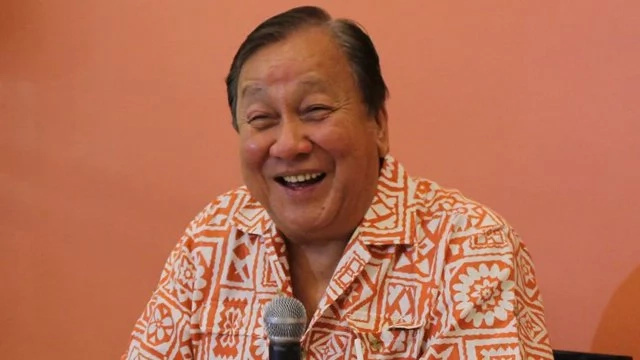 Atienza, who staunchly supports President Rodrigo Duterte in his decision to allow the burial of the late dictator Ferdinand Marcos at the Libingan ng mga Bayani, will deliver the speech on August 22.
"I have fought Marcos. Pagtapos nung pagsabog, pinupulot ko 'yung mga piraso ng katawan ng mga kasama ko. Minumura ko si Marcos. Ang alam natin all these years, si Marcos ang may kasalanan. Siya ang sinisisi natin pero iba pala," said Atienza who was a member of the Liberal Party in 1971.
READ ALSO: What the PH debate community has to say about Marcos' burial at the LNMB
(After the explosion, I was picking up the body parts of my colleagues. I was cursing Marcos. All these years we thought that it was Marcos' fault. We were blaming him but it was not really his fault.)
Atienza links the bombing to the 1983 assassination of Senator Benigno Aquino Jr. and Marcos' chief political rivals.
"This issue has divided the nation for almost 3 decades. Bawat palit ng administrasyon, nauungkat at nananariwa ang mga sugat (The wounds are reopened and relived)," added Atienza.
READ ALSO: Netizen asks Duterte to declare martial law; this is what she got
Moreover, the left-leaning members of Duterte's Cabinet were called upon by Atienza to support the President's decision. These leftists were also in opposition during the Marcos era.
"They should throw their support behind him... hindi magandang tingnan otherwise (it won't look good if they won't). Hindi natin puwedeng pangunahan kung ano ang magiging desisyon nila. Pero alam na nila ang dapat nilang gawin. Kung ayaw nila sumunod sa Chief Executive sa paglilibing kay Marcos sa Libingan ng mga Bayani, ano pang ginagawa nila riyan?" he pointed out.
(We can't get ahead the Cabinet members' decisions. But they should know what they need to do. If they do not want to follow the Chief Executive in his decision to bury Marcos at the Libingan ng mga Bayani, then what are they still doing there?)
READ ALSO: Imee Marcos included in Duterte's DRUG war 'honor list;' FIND OUT why
The Supreme Court is set to oral arguments next week on the contentious issue of the President's decision to bury Marcos at the Libingan ng mga Bayani. – Kami Media
Source: Kami.com.ph