- Netizens criticized President Rodrigo Duterte's threat to leave the United Nations (UN) in a press briefing recently
- The issue started when Duterte lambasted the UN for its supposedly "insulting" attitude towards his administration's vow to crack down on illegal drugs and criminality
- Duterte is known to be direct in his comments involving public policies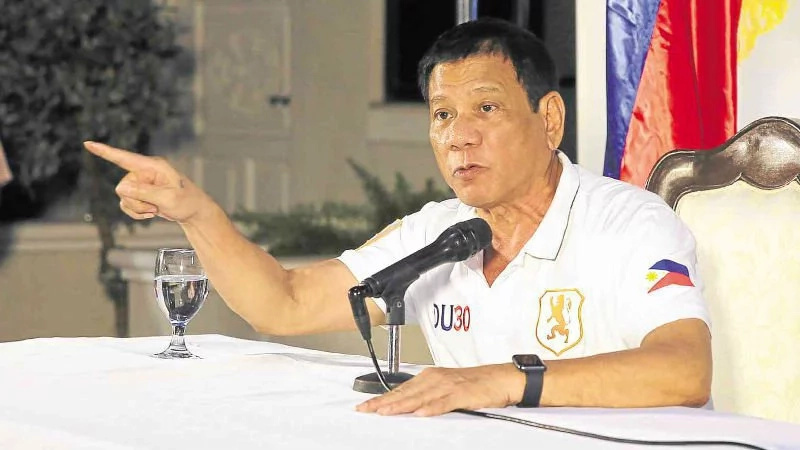 Following President Rodrigo Duterte's threat to leave the United Nations (UN) after the latter has expressed its concern on the rising number of extra-judicial killings, social media users went online to express what they think about the President's comments.
Duterte lambasted the UN for its supposedly "insulting" attitude towards his administration after special rapporteur of the U.N. on summary executions Agnes Callamard expressed her interest to investigate the summary executions in the country resulting from the President's war on drugs.
According to Duterte, who is known for his strong stance against illegal drugs and criminality, the UN is not in the best position to comment on the drug war in the Philippines because they lack the relevant knowledge and information about the different aspects of fighting crime in the country.
READ ALSO: VIDEO: Bato faces the Senate again; WHO is to blame for the extrajudicial KILLINGS?
Meanwhile, netizens reacted to the President's threat and posted what they think about the President's comments. Here are some of the reactions of people on social media.
READ ALSO: Duterte to De Lima: She's lying
A netizen also posted a poll asking if President Duterte should push through with his plan of leaving the UN.
READ ALSO: What the PH debate community has to say about Marcos' burial at the LNMB
This suggestion from a Twitter account mocking the President made some netizens laugh.
This question made people wondering too.
READ ALSO: DOT secretary willing to resign after Duterte's firing all gov't appointees
Here are some of the posts on Facebook about the President's threat.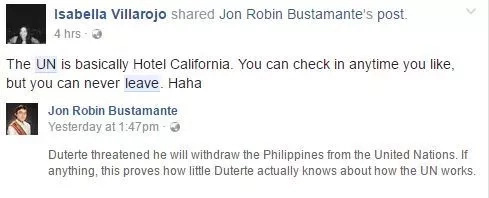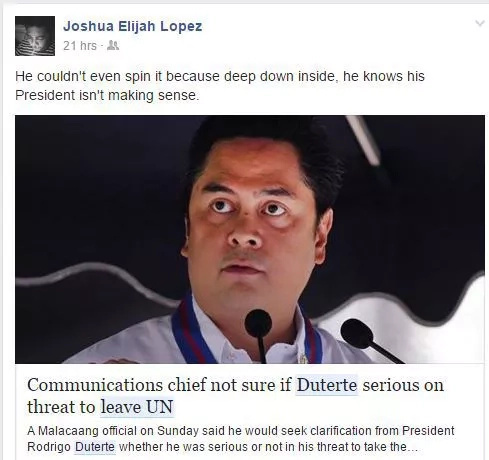 READ ALSO: Imee Marcos included in Duterte's DRUG war 'honor list;' FIND OUT why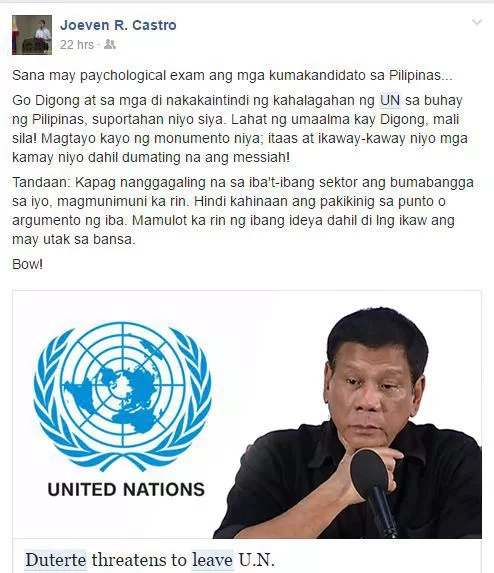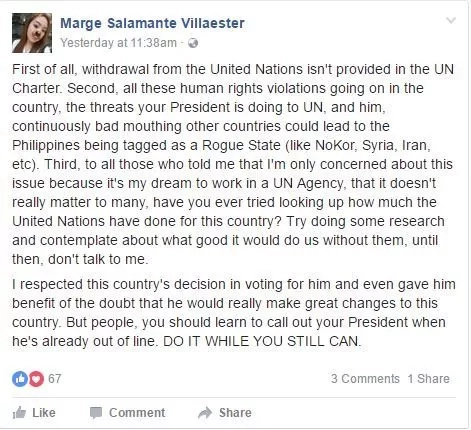 READ ALSO: THE WORLD IS GOING MAD! 10-year-old girl raped by grandfather, 2 uncles; 6-year-old 'raped' by father, grandfather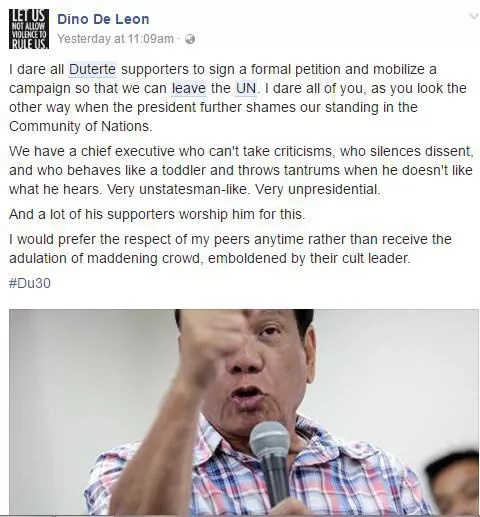 Duterte is known to be direct in his comments involving the country's war on drugs. -Kami Media
RELATED: Duterte declares gov't posts vacant
Source: Kami.com.ph