EDITOR'S NOTE: This column may contain themes that may not be suitable for minors. Parental guidance is strongly advised.
The recent news about Radio DJ Karen Bordador being involved with illegal drugs shocked the nation. However, many celebrities in the past have already been involved in high-profile crimes either as victims or as suspects. Here are some of the most shocking Showbiz crimes in Philippine history.
The gruesome murder of Nida Blanca
The 65-year-old actress – considered as one of the greatest of all-time in Philippine history – was gruesomely murdered in the parking lot of the Atlanta Centre in Greenhills on November 7, 2001. She was found with multiple stab wounds in the back seat of her vehicle.
Her husband – American Rod Strunk – was the main suspect for the crime. Prosecutors said that Strunk would get a portion of her properties if she died before an annulment was finalized in court. Strunk committed suicide on 2007.
READ ALSO: VIDEO: Top 7 funniest Filipino PRANKS that will make you LOL!
Rochelle Barrameda's sister found dead inside a drum
The sister of Rochelle Barrameda – former beauty queen and actress – went missing in 2007. In 2009, her body was found inside a drum filled with concrete.
The disappearance and murder of Ruby Rose Barrameda happened after a custody battle with her estranged husband for their two children. The husband, Manuel Jimenez III, his father Manuel Jimenez Jr. and uncle Lope Jimenez were charged with the murder.
FHM model Scarlet Bouffard Garcia's murder
FHM model / Viva Hot Babe Scarlet Bouffard Garcia was found dead in her Olongapo City home along with the lifeless bodies of her live-in partner, cousin and her cousin's boyfriend. The victims were found stabbed and shot to death after authorities responded to a fire set by the criminals to cover up the murders.
Investigators found out that the model and partner were forced to have sexual intercourse before they were killed. Suspects of the crime belonging to a crime gang were arrested by the police. This gang is known for forcibly entering houses, raping the female occupants, and stealing their possessions.
READ ALSO: 10 Sports EPIC FAILS caught on VIDEO that will make you laugh!
Ramgen Revilla murder
This is one of the most shocking Showbiz crimes that shook the nation. Ramgen was an actor and part of the influential Revilla clan. On October 28, 2011, he and his girlfriend – actress Janelle Manahan – were attacked by a masked man. Ramgen was shot and stabbed multiple times while Janelle was shot in the face.
Ramgen died but his girlfriend survived. Investigators accused Ramgen's brother Ramon Joseph Bautista and his sister Ramona Bautista of being the masterminds of the crime, with the motive involving disagreements over the allocation of the P1-million monthly allowance.
Maggie dela Riva rape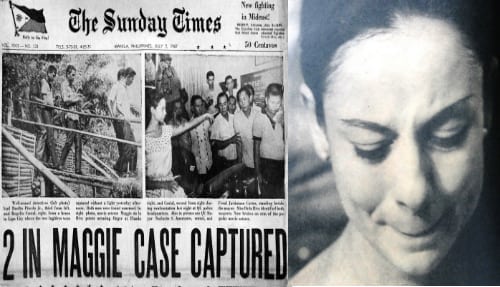 The then rising young star in Showbiz was abducted, raped and tortured by a group of young men at the Swanky Hotel in Pasay City. Inside the hotel room, Dela Riva was forced to take off her clothes and dance in front of the men. She was then raped by the four men.
Three of the rapists were found guilty of the crime and were put to death in the electric chair. One of the rapists died from drug overdose.
Eddie Fernandez kills a businessman
In 1969, actor Eddie Fernandez killed a Bulacan businessman and was imprisoned for more than a decade. When he got out of prison, the actor got involved in illegal drugs and was killed by the police in a shootout.
SHARE this story with your family and friends. – Kami Media
WATCH: 5 Pinoy celebrity outbursts caught on video
Source: Kami.com.ph