"If a house is divided against itself, that house cannot stand." - Mark 3:25
As swirling anger, rage, and violence threaten to divide and conquer our nation, let us pray to the Lord that He may grant us stability - for in as much as we need to build our house upon the rocks, a stable anchor will keep us from being torn apart - as a nation.
Dear Father,
As we thank you for this brand new day, we pray for a nation divided.
As we reaffirm both our temporal independence – our national sovereignty,
we pray that we would once again regain our eternal dependence upon You.
Lord, today, we recognize that we have come to the end of ourselves
Our leaders fight, and our resources, our strength, and our wisdom are simply not enough,
In this culture of sin and death, we grieve and pray;
for only in these times do we fully abandon ourselves to the God.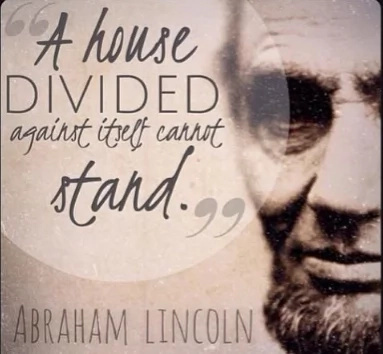 For times when it's difficult to know even what to pray,
we call upon Your glorious name, o Lord, to heal our land, and strengthen all those in authority,
With Your miraculous intervention, we pray, that You would open the blind eyes of our people and leaders
Open their eyes, shut their mouths, and soften their hearts, oh Lord.
As our leaders try to lead us to a better nation, we pray that respect and honor that is due those in public life may be restored
Grant our prayer for peace, o Lord, and let the violence that comes with this change be lifted
Being our own Savior, we are doomed to failure, so we abandon ourselves to You,
and bring our out-of-job, out-of-time, out-of-knowing-what-to-do selves to you, and hope that You would, once again tuck us under Your loving arms.
When extrajudicial killings have become most prominent, we pray for the loved ones of those whose lives have been needlessly taken.
When the pain of realizing that whatever worked in the past is not working in the present, we call to You, o Lord, and pray
Setback our death throes, Father, as we lift our voices in support; for all those who too frequently find themselves victims of bigotry and injustice, may the laws of our nation be followed so that the brutal and unjust treatment of any citizen is corrected;
for peace and unity of our people in our streets and within our hearts, we pray.
For our nation on the verge of being torn apart, we pray in Your Holy name.
Amen.
RELATED: A glimpse of courage in times of struggle
Source: Kami.com.ph