- President Duterte is set to honor 10 governors, including Imee Marcos, for supposedly curtailing the illegal drug trade in their provinces
- The honor list was submitted by the DILG ahead of Duterte's plan to announce another batch of officials, judges and policemen with alleged ties to illegal drugs
- However, it remains unclear why Marcos was included in the list when the DILG already ruled that officials from political dynasties should be disqualified automatically
Ilocos Norte Governor Imee Marcos and 9 other governors are set to be honored by President Rodrigo Duterte's administration for supposedly curtailing the illegal drug trade in their respective provinces.
Besides the daughter of late dictator Ferdinand Marcos, the other governors in the drug war "honor list" include Hilario Davide III (Cebu), Jose Alvarez (Palawan), Junie Cua (Quirino), Ma. Angelica Rosedell Amante-Matba (Agusan del Norte), Faustino Dy III (Isabela), Alfredo Marañon (Negros Occidental), Daisy Avance-Fuentes (South Cotabato), Eduardo Firmalo (Romblon), and Edgardo Chatto (Bohol).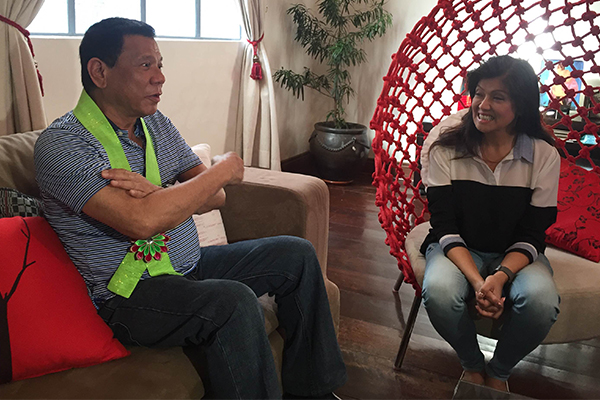 READ ALSO: VIDEO: Duterte threatens to leave the UN, defends war against DRUGS!
Department of the Interior and Local Government (DILG) Chief Ismael Sueno submitted the list to Malacañang ahead of Duterte's plan to publicly name the second batch of officials, judges and policemen with alleged ties to illegal drugs.
"As we utmostly condemn the alleged narcopoliticians, we should also be celebrating these provincial chief executives for showing exemplary management prowess and strong character in thwarting illegal drugs in their territory," Presidential Communications Secretary Martin Andanar said.
Of the 10 governors in the honor list, five of them – Davide, Dy, Chatto, Alvarez and Maranon – supported Mar Roxas in the presidential race.
READ ALSO: FIND OUT what De Lima has to say about her driver and their alleged SEX VIDEO
However, the DILG had earlier ruled that government officials who belong to political dynasties should be automatically disqualified from the honor list, which makes it unclear why Governors Imee Marcos and Dy were included in the list.
 "[T]he notion [is] that they control much of what is going on around them in their locality. Any information deemed detrimental to their image might be suppressed," the DILG stated earlier.
Duterte's aggressive anti-drug campaign had not spared government officials so far, with local officials, judges and policemen named as having links to illegal drugs. The President has also targeted Senator Leila de Lima, who he accuses of having her driver collect drug money from the New Bilibid Prison (NBP). – Kami Media
READ ALSO: 3rd petition filed vs Marcos burial
Source: Kami.com.ph