- Bob Arum called out HBO for 'abandoning' Pacquiao's upcoming bout against Vargas after 'sucking him dry for 10 years'
- The network communicated internally that the November 5 date would be a bad timing to air the fight as it would be against other events in the US
- However, Arum insisted that Pacquiao's schedule was based on the Philippine Senate and considered the day as a 'good date'
Boxing promoter Bob Arum did not take it kindly when HBO decided to forego Manny Pacquiao's comeback fight against Mexico's Jessie Vargas.
The veteran supporter claimed of how the pay-per-view network simply 'abandoned' the boxer after 'sucking him dry for 10 years.'
According to an interview with Lance Pugmire of LA Times, Arum referred to the distribution of the bout as the network's 'obligation.'
READ ALSO: HBO refused airing Pacquiao's upcoming fights. Did the CHAMP lost his touch?
He also took this as a sign that HBO's contract with Pacquiao has already come to an end since they can't simply pick which fights they wish to distribute.
"They're either in breach of contract or they've ended the contract. My feeling is, based my legal background, is that the contract is terminated," Arum said.
Aside from HBO explaining that they have 'come to an agreement with Top Rank and Manny Pacquiao,' they refused to publicly comment on the matter.
But per Pugmire's report, the network has reasoned internally why they chose to waive the Pacquiao-Vargas fight on November 5.
READ ALSO: Pacquiao tries to KNOCKOUT electric bill during a Senate inquiry
HBO noted that the date would not be as receptive to the audience – this was because it was badly timed with college football, the NHL, NBA, and the pending US presidential elections which would possibly distract viewers.
Apart from the several events occurring around the similar day, it was reported that the network has already accommodated another pay-per-view bout on November 19 between Sergey Kovalev and Andre Ward.
Instead of having the match on November 5, HBO preferred that it would rather take place on October 29.
READ ALSO: Netizens not pleased with Pacquiao's 'Biblical' reasoning on Marcos' hero burial
As for Arum, he argued that Pacquiao's schedule was based on his available time from the Philippine Senate.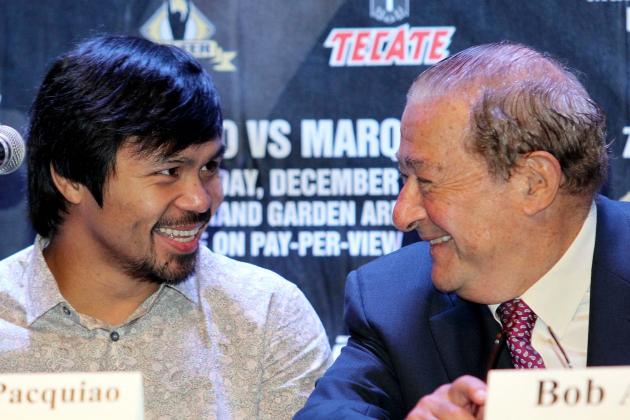 "Who are they to say it's an awful date? It's my money. They have no risk on this. I think it's a good date. The presidential date is irrelevant, and their college football schedule on Nov. 5 is less important than Nov. 19," Arum said.
"And somebody should remind [HBO] how many Philippine American subscribers they have – who aren't going to take kindly in this," the Top Rank Inc. Executive added.
READ ALSO: Pacquiao quotes Bible to support Marcos hero's burial
Arum then opted to communicate with Turner Sports about the pay-per-view broadcast, while also considering on distributing the upcoming bout by themselves.
The fight between Pacquiao and Vargas would be the latter's first title defense while as for the former, it would mark as his first fight following his recent victory on the elections and his brief retirement.
Source: Kami.com.ph