- The Eraserheads is a local band that gained traction in the early 90s with their teenage anthems
- The band starred in Smart Communications' commercial, promoting the network's latest prepaid promo 
- Despite a six-year break-up, they have reunited every now and then for concerts and tours 
This is not a drill - everyone's favorite local band from the 90s reunited again for a telco commercial.
The Eraserheads, composed of vocalist/guitarist Ely Buendia, drummer/percussionist Raimund Marasigan, guitarist Marcus Adoro, and bassist Buddy Zabala, was (and is still) the most prominent local band in the early nineties until the turn of the 21st century.
The band broke up in 2002 but reunited again after six years for a one-time concert, which then led to worldwide tours.
READ ALSO: Top 5 sex scandals that shook Philippine showbiz
Last June, Smart Communications, a subsidiary of the Philippine Long Distance Telephone (PLDT) Company, has tapped the band to play during the launch of their rebranding.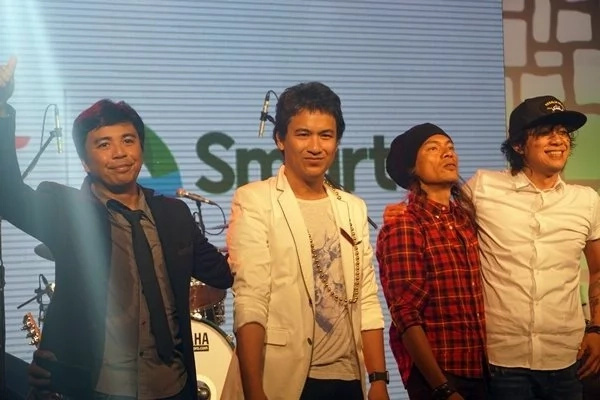 (photo credit: clickthecity.com)
Their appearance during the event might have surprised the eventgoers, but it might also have prompted executives of the company to tap them for the commercial as well. The short clip featured the four original members of the band in various locations - Buendia strolling around UP Diliman, Marasigan reminiscing by his drum set, Adoro chilling at the beach and Zabala driving around.
They were all listening to 'Minsan', which appeared on their sophomore album 'Circus'.
READ ALSO: Cinematheque Manila, UPFI to re-screen "Hele sa Hiwagang Hapis"
The band promoted the network's prepaid promo ALLOUTSURF 3o where users can enjoy Facebook, use 300 MB worth of mobile Internet, have unlimited texts to all networks and make 30-minute calls to Smart and its affiliate networks such as Sun and Talk 'n Text (TnT) for only 30 pesos. The promo is also valid for 2 days.
The ad ended with 'Iba talaga 'pag kumpleto' (It's different when everyone's complete), referencing the band on their wholeness again.
It has been reported that during their concert at the Smart relaunch, Buendia hinted that they might perform again soon.
As fans of the band (who is not, anyway?), we are excited that they are working with each other again in harmony and hope that they come out with new material the generation of today can also get into.
What do you think of their ad for Smart? Did it make you nostalgic for your teenage years? Or did it make you an instant fan of the band if you have not listened to any of their songs before? As always, share in the comments what you think!-Kami Media
READ ALSO: VIDEO: Dying old man sings 'You Are My Sunshine' with wife of 66 years; their DUET will make you CRY
Source: Kami.com.ph