- A viral video caught a snatching incident in one of the busy streets of Manila
- The suspect pretended to look at something else when the victim noticed the crime
- Police constantly reminded people to be vigilant in public places as crimes are prevalent on streets
A chilling video showed how a snatcher attempted to rob a pedestrian in a busy street of Manila.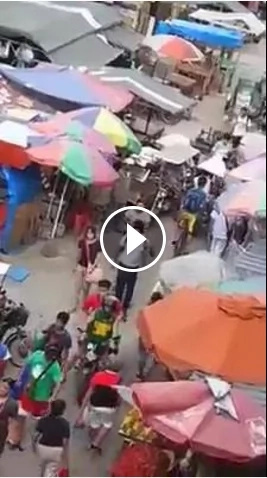 READ ALSO: Duterte threatens UN observer: I'll whack him in the head!
The suspect followed and tried to pry open the backpack of an unsuspecting man searching for some loot. However, the man may have noticed and checked his bag. The man pretended to check
He saw that his bag was open and tried to confront the suspect, he pulled a weapon and aimed at him. This made the victim jumped and walked away. By the end of the video, a whistle was heard that made the suspect ran away.
READ ALSO: 'Invitation to investigate accepted' – UN expert after Panelo dared UN to come
It is unconfirmed when and where the incident happened. However, commenters claimed that the crime took place in Blumentritt, Manila.
Crimes are rife on the streets and people are cautioned to be vigilant and to keep an eye on their belongings.
According to the latest crime  statistics from the Philippine National Police, Manila has 21, 861 cases of theft. The city of Manila came in at 2nd place with a total of 54,689 index crimes.
Watch the video of the incident below.
READ ALSO: Crime of passion or cold murder? Guy kills for love
Source: Kami.com.ph