Lion pounces on baby on this Mexican show
- In the Mexican show,  Con Sello de Mujer, a lion is brought out for the audience to see
- After the baby on the show whines, the lion pounces and grabs the baby
- Fortunately, the lion's trainers were able to pull the wild animal away, saving the toddler
This video shows just how much people should be vigilant when it comes to animals like lions and tigers. In the video, a little girl was almost eaten by a lion during a live Mexican tv talk show.
The show, Con Sello de Mujer, which roughly translates to A Woman's Seal, is a show that ran from 1998 to 2007, featuring topics that mostly appealed to women.
READ ALSO: VIDEO: Dying old man sings 'You Are My Sunshine' with wife of 66 years; their DUET will make you CRY
In the video, the show seemed to be going as planned. Two animal handlers bring out the lion cub on a leash to the stage. As he show's presenter discussed, the lion quietly sat on the floor as the handlers talk to the host of the show.
Suddenly, the baby starts to whine. This is where it became really scary.
The lion notices the baby and goes into a frenzy and lunges for the young child. The baby screams as the lion grabs the toddler's legs
Frantically, the trainers pulled the lion back, while the mother held on to the baby.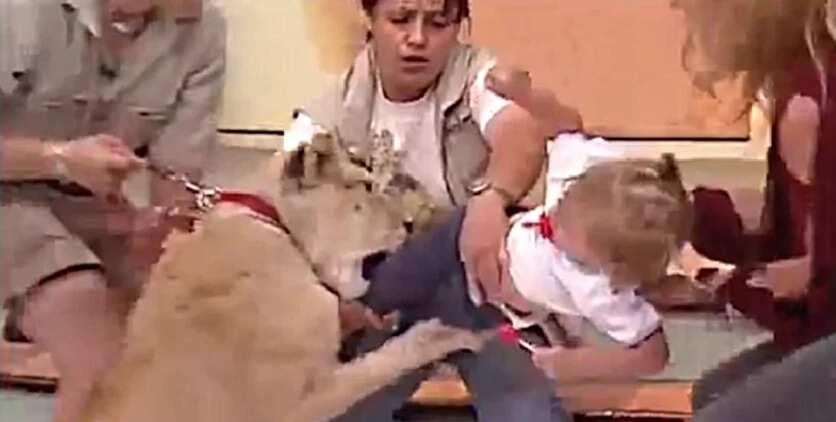 Thankfully, the trainers were able to subdue the lion, saving the child's life.
READ ALSO: 10 oddest wedding rituals and traditions from around the world
The lion was led off stage while the trainers sought to calm the crying baby and the mother of the child. The show went on, with the mother brushing off what could have been a fatal encounter with a wild animal.
As the old saying goes, you can take the lion out of the jungle, but you cannot take the jungle out of the lion. This video shows that some wild animals are never fully domesticated. These animals have hunting instincts that could appear at any time.
Lions are predators and if people are not careful, they could turn you into their next meal.
READ ALSO: Horrendous photos of fisherman who lost his face after tiger attack
SHARE this shocking story with your friends and family. – Kami Media
Source: KAMI.com.gh