- Another batch of petition against late President Ferdinand Marcos' burial was filed with the Supreme Court
- According to Ibarra Gutierrez, the lawyer of the petitioners, the new legal challenge raises new issues that were not discussed in the previous petitions
- The National Commission of the Philippines (NHCP) is also not in favor of the controversial hero burial 
Another batch of martial law victims filed the third petition against the late President Ferdinand Marcos' burial at the Libingan ng mga Bayani on Friday.
According to Ibarra Gutierrez, the lawyer of the 14 torture victims who belong to the Coalition Against Marcos Burial and are led by former human rights commissioner Loretta Rosales, the new legal challenge raises new issues that are not tackled in the two previous cases filed in the Supreme Court.
Guttierez stated that the group aims to participate in the oral arguments set for Wednesday, saying that the new petition discusses constitutional issues and international law and public policy matters.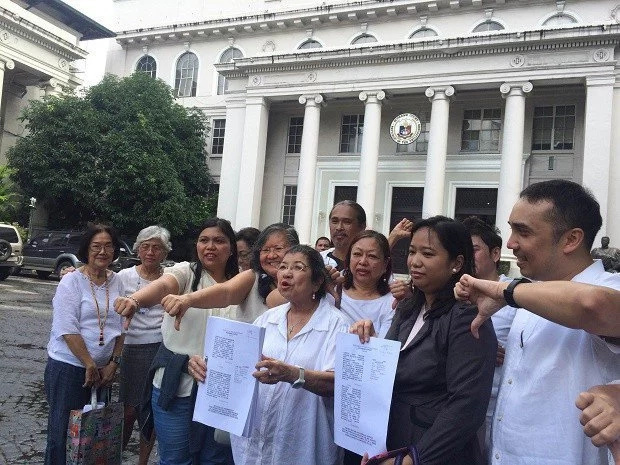 READ ALSO: Is this a proof that Ferdinand Marcos is a HERO?
He added that even the 1987 Constitution is an "anti-dictatorship Constitution" as characterized by the 1986 Constitutional Commission, and added that pertinent laws and jurisprudence already consider the strongman as a human rights violator.
He said: "Mayroong indictment na implicit sa Constitution na si Marcos ay kriminal na hindi na dapat tularan. He is a criminal, a plunderer and a human rights violator."
(There is an indictment implicit in the Constitution stating that Marcos is a criminal who should not be emulated. He is a criminal, a plunderer and a human rights violator.)
READ ALSO: Should the late Marcos be buried at the Libingan ng mga Bayani?
Gutierrez explained that the matter is not only on the technical aspect regarding who should be buried but said that it "hits the heart of the Constitution." He also pointed out that the constitutional order and the policies for the past 30 years are being twisted.
The National Commission of the Philippines (NHCP) also oppose the burial of the late president at the Libingan ng mga Bayani, saying that he had lied about his military achievements.
NHCP chairperson Maria Serena Diokno earlier said that the burial honor should not be granted to Marcos, explaining that his claims are not proven. - Kami Media
READ ALSO: Anti-burial rally goes online! Netizens sends Twitter abuzz with protests
Source: Kami.com.ph