– A woman broke the window of the ongoing car, that didn't allow her to drive through the one-way street
– The driver of the other car just wanted to teach her and her friend to drive by the rules as he blocked the way, but he didn't expect this at all
The incident took place in Voronezh, Russia, when a driver saw red KIA moving in his direction on the one-way street. There were two blondes sitting in that vehicle, so the driver decided to teach them a lesson.
READ ALSO: Outraged man jumps on the car and headbutts its windscreen
He stopped his car and blocked a road, so they were unable to move. One of the girls walked out of the KIA to ask the man to let them drive. But he was uncompromising, wishing for the girls to learn the lesson.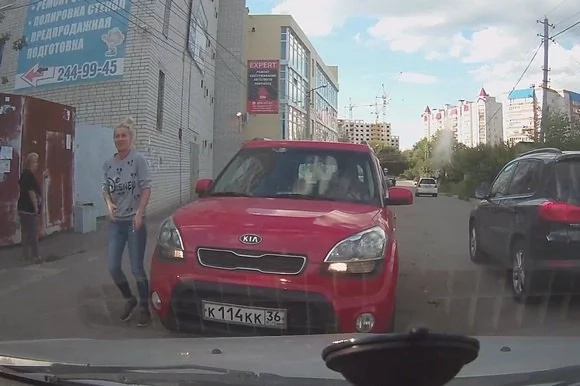 Read the conversation between them two below:
– "It's the one-way street, you can't drive here"
– "We're very happy for you, but we're blondes. Can you drive away just so we can move forward?"
– "No, you need to turn back or I'll call the cops"
– "But why would you do that?"
– "It's not allowed to drive like this. I want everyone to drive by the rules"
READ ALSO:  Truck driver warns all econobox drivers that brakecheck trucks!
Soon after another girl begins to drive her KIA back, and the man almost thought that girls had finally learned their lesson.
But it revealed that she did this only to create more space for herself. Then she jumps on the hood of the man's car and smashes the front window with her high heels.
Watch the shocking video below. The most interesting part begins at 1:58.
READ ALSO: Poop truck explodes on the road flooding cars with poop (video)
Source: Kami.com.ph