Retired colonel says Duterte's plan is all balls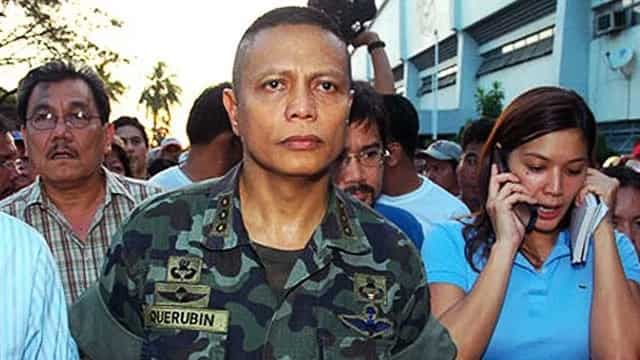 Retired colonel says Duterte's plan is all balls
NOT one, but two people from the military have openly spoken against Duterte's supposed 6-month plan to eradicate crime. Senator Antonio Trillianes IV, a graduate of the Philippine Military Academy, poked holes into the case of Senator Cayetano and Mayor Duterte by saying 'it's impossible'. Now, retired colonel Ariel Querubin from the Marines, says that Duterte's plan to eradicate crime is 'almost impossible' and more likely 'all balls'.
READ ALSO: Trillanes to Cayetano's 6 month plan: Don't fool us
Concrete plans, not ballsy promises
Querubin said in an interview that if Duterte wins the presidency, it would be close to impossible to eradicate crime in just three to six months. Querubin said that there should be no time frames put in place to combat crime, as crime is a very complex problem to solve. He labeled the six month promise as a way to hoard popularity because it is what the people want to hear, despite not having any concrete plans.
"Don't put a time frame. Even during the martial law years, taon ang ginawala nila (they spent years trying), but still crime was not eradicated," he said.
In a previous report, a netizen tried to detail how Duterte would unveil his grand plan of fighting crime all around the country. However, only generalities were given. It comes with a disclaimer that not the whole plan will be shown, because this will endanger the "operation".  This is precisely the type of criticism that anti-Duterte proponents have launched against the mayor. From lack of specifics to the immense possibility of skipping certain due processes in order to satisfy the time frame, these doubts have hindered Duterte from connecting to more distinguishing voters who make their decisions based on the platforms of candidates.
The closest that the mayor has gone to detail his plan was in a Rappler report. The mayor says he will elevate drug and crime as a national security threat, and immediately train a specialized ranger force to apprehend the criminals. He would need 3,000 policemen and a ranger trained division in order to implement his plan. He said that if the criminals resist even once, the order would immediately be shoot to kill.
READ ALSO: Netizen unveils Duterte's 3 to 6-month plan to rid country of crimes
Developed countries also cannot completely eradicate crime
The retired colonel was keen to point out that crime is a very complex problem that developed nations, with their more advanced technology, better intelligence gathering techniques and capabilities, as well as a better overall police force, they struggle to contain and treat crime at its root cause.
"It's close to impossible because even developed countries like the US or UK for example, with all their sophisticated, state-of-the-art surveillance equipment, they don't give any time frames to eradicate criminality," he said, implying that if developed countries have been unable to completely expunge crime, what more in a less developed country?
He maintained that there needs to be a good strategy in place. He also said that the mayor should be careful in what he says. More often than not, candidates are criticized if they fail to keep their promises. More so if these promises are the very reason they got into the position in the first place.
"What we need is a concrete plan, a good strategy to combat this. Madali lang sabihin kung ano 'yung gustong pakinggan ng mga tao. Pero dapat pag-usapan natin 'to, hindi ba puro balls lang, kasi puro ganun eh, forgive me for mentioning, puro bayag lang. Dapat pag-isipin din natin itong mga sinasabi natin. Huwag na nating lokohin ang mga tao," Querubin said, calling the plan as all balls.
He also added that another factor that can come into play is political will. Duterte may pour in his entire political will, but the mayor does not have the monopoly of political will.
Querubin agrees with the problem, but unsatisfied with Duterte's plans
Don't get the retired colonel wrong. He does agree, so with millions of people who rally around other candidates, that drug trafficking and crime are big problems that are barring the country from performing at its fullest potential. However, this does not mean that he agrees with the means and methods that Duterte is proposing.
Colonel Querubin has pledged his support under the ticket of Senator Grace Poe, whom he believes has a better and more concrete plan to combat crime. Under the Poe administration, Poe would need to start by fixing the system under the Philippine National Police first. The PNP has been mired for a long time about its inefficiency and also in corruption.
Poe would find a good and credible person to lead the PNP, as well as appointing her crime czar that strongly coordinates with the PNP Head. Recently, senator Poe has said that if she were to win, she would appoint Querubin for the crime czar position. A statement that Querubin warmly welcomes, and believes that the Poe ticket will be better in bringing a safer country for people to live in.
"That's a good plan. That's a good step. It's seems that the credibility of police enforcers, particularly the PNP, has been tarnished with all these. So putting a credible, a man with integrity is a good move. Tapos kung maganda pa 'yung programa ng anti-crime czar, hand-in-hand, maiaayos to (Working hand-in-hand with an anti-crime czar who has good programs will help) make this country a safe place to live in. I really believe that with a Poe presidency, the country will be safe," added Querubin.
Colonel Querubin is one of the most bemedalled officers in the military. He has earned every award the AFP can give him, except for the Wounded Personnel Medal.
His notable achievements include the neutralization of Jessie Rafael, the provincial chair of the armed Communist Party of the Philippines-New People's Army, neutralization of Moro National Liberation Front leaders such as Racquel Carreon, and the search and rescue of a Swiss national named Hans Kunsli in Sulu.
Source: KAMI.com.gh