De Lima confirms and denies Duterte's allegations
- Senator Leila De Lima has denied President Rodrigo Duterte's allegations against her, admitting there was only some truth but mostly lies in his remarks
- Duterte and De Lima's word war has come to a head when the chief executive on Wednesday dropped the name of the senator  – linking her to illegal drugs and calling her "immoral person" for having an affair with her driver
- The senator is set to preside over Senate probe on extrajudicial killings under Duterte's government on Monday and Tuesday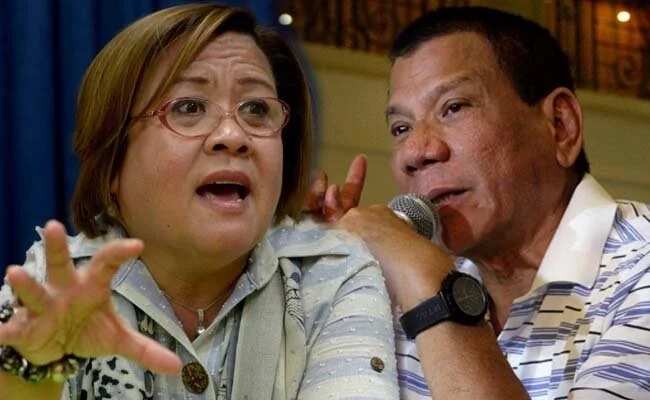 READ ALSO: Hontiveros defends De Lima; here's what she told Duterte
The long-standing feud between President Rodrigo Duterte and Senator Leila de Lima has intensified when the former named the senator as the "immoral woman" – criticizing his bloody war against illegal drugs – which he refused to identify in his previous speeches.
On Friday, August 19, De Lima denied the president's tirades accusing her of having a relationship with her driver and linking her to illegal drug trade.
Nevertheless, the senator admitted there was a little truth in Duterte's statements but larger fractions were lies.
READ ALSO: (FULL TEXT) De Lima to Duterte: 'Tao lamang din po ako'
"May kaunting totoo dyan, pero karamihan dyan, exaggerations, distortions and lies. And foremost of the lies, is yung sinasabing na may nangongolekta para sa akin sa Bilibid. That is an absolute lie," the former human rights commissioner told the press on Friday.
(There was some truth [in Duterte's remarks] but mostly were exaggerations, distortions and lies. And foremost of the lies, was the collection of drug payoffs from Bilibid. That is an absolute lie.)
"We've seen some snippets of facts, snippets of truths, but the bulk of it are distortions, exaggerations, and lies," De Lima said.
READ ALSO: Duterte on his tirade against De Lima: I already have evidence
The senator refused to answer when asked what the snippets of truth were.
Duterte also claimed she is in a relationship with her driver and that she provided a house for him.
"Hindi akin iyan,(That is not mine)," De lima said when pressed about a two-storey house in Pangasinan she allegedly gave to his driver.
READ ALSO: De Lima reacts to Duterte's comments; this is what the president told her
Meanwhile, Presidential Chief Legal Adviser Salvador Panelo has dared De Lima on Thursday to disprove the president's accusations.
"But, ilang beses ko na yan dine-deny (I've denied it several times). So, I'm denying it again. That's an absolute lie. That's completely false! I would never do that because I've never betrayed my oath as a public servant and I don't intend to betray my oath as a public servant, lalo na may mandato ako sa taumbayan (especially that I have a mandate to our people)," she remarked.
De Lima delivered a response to Duterte's tirades against her in a news conference on Thursday and is planning to hold another press gathering over the weekend. - Kami Media
RELATED: Did De Lima give this house to her driver?
Source: KAMI.com.gh