- PNP Chief "Bato" dela Rosa faced the Senate on Thursday to talk about the spate of vigilante killings in the country
- According to Bato, the PNP is already probing 899 cases of vigilante killings with only 22 of those cases filed through the National Capital Region Police Office
- The PNP Chief also spoke to the media, telling them that he is angry over the vigilante killings and that he considers these murders as an insult to the police force
Philippine National Police (PNP) Chief Director General Ronald "Bato" dela Rosa faced the Senate on Thursday to speak about the spate of vigilante killings in the country since President Rodrigo "Rody" Duterte assumed office.
According to the PNP Chief, the police authorities are already investigating 899 cases of vigilante killings – the deaths of alleged drug criminals outside legitimate police operations.
"Those are the dead who were just found floating along canals, the dead who were dumped along roads with their hands tied and their faces, eyes, and mouths taped. Also, those killed by riding-in-tandem, or those who were just shot. Those are the deaths under investigation," Dela Rosa explained.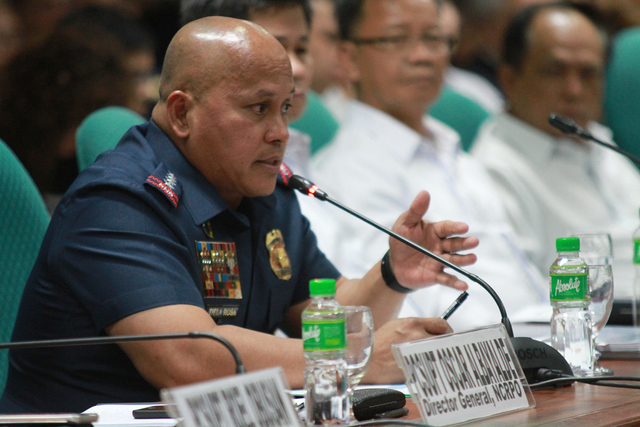 READ ALSO: Duterte vs De Lima WAR: 10 important things you NEED to know
PNP Chief Bato added that 22 cases related to the drug killings have been filed so far through the National Capital Region Police Office.
Dela Rosa also spoke with the media, telling them how angry he is over the vigilante killings. The PNP chief said that summary executions are an insult to the police force.
"So that [means] ineffective kami (we are ineffective). Kaya galit na galit ako diyan sa mga vigilante (That is why I am very angry at those vigilantes)," Bato pointed out.
READ ALSO: Netizens go CRAZY over PNP probe vs De Lima's driver; SEE their reactions
In July, Dela Rosa said that the drug lords are the ones who are behind the summary executions and not the police.
"You keep on looking at the police, you keep on suspecting us. But those behind these 'salvage' … these are the work of drug syndicates," Bato said.
According to the PNP Chief, the drug lords are killing drug pushers who fail to remit their earnings from illegal drugs and are using Duterte's aggressive anti-drug campaign to cover up for their murders.
Dela Rosa is scheduled to return to the Senate for another hearing on August 22. – Kami Media
READ ALSO: VIDEO: Did De Lima's driver collect money from Bilibid? Bato vows to INVESTIGATE
Source: Kami.com.ph