- Malacañang launched a Duterte tabloid, Mula sa Masa, Para sa Masa, highlighting his programs and achievements and will be offered for free
- A public service program of similar will be aired on national television
- Duterte administration planned to strengthen its communication channels to reach the public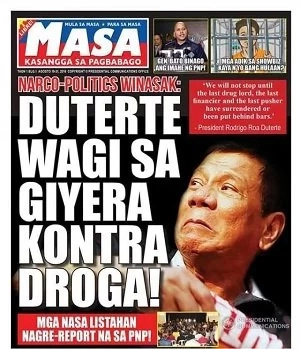 Palace has launched its bimonthly tabloid that will be distributed to the public for free.
READ ALSO: Is Duterte – media spat over?
Presidential Communications Secretary Martin Andanar is booming with pride when he showed off the eight-page tabloid of the administration Mula sa Masa, Para sa Masa in a press conference in Davao City.
Announced just in time for Duterte's 50th day in the office, it will highlight the accomplishments, plans, and programs of the Duterte administration. The first edition of the tabloid boasted the "victory" of the government in battling drugs and crime. Next issues will feature other programs of the government, said Andanar.
Andanar said 5,000 copies of the paper were printed for free by the government's printing presses as part of its corporate social responsibility.
READ ALSO: Duterte TV show set to air on August
After the tabloid, the show Gikan Sa Masa, Para Sa Masa that was broadcasted locally in Davao before will be renamed Mula sa Masa, Para sa Masa and will be broadcasted on national television, which will be coming this month.
"Ladies and gentlemen, habang wala pa po 'yung television show, ginagawa pa po namin 'yung studio sa Malacañang (while the TV show is not yet ready, we are still preparing the studio in Malacañang), please welcome Mula Sa Masa, Para Sa Masa tabloid," Andanar explained.
Upon assuming office, Duterte administration already revealed its plans to strengthen the presidential communications by providing more outlets to inform the public of the programs and accomplishments of the government.
READ ALSO: LOOK! International media outlets BBC, ABC to transform PTV4
Source: Kami.com.ph