Why I fight for Leni : A volunteer's story about the campaign
Editor's Note: The campaign of Leni Robredo made several voters excited to see the sole woman candidate assume the second highest position in the land. Recently, Robredo soared on top of the latest SWS survey following her well-loved performance in the televised VP debate and the proclamation of Sumilao farmers  to march for the lawyer who once advocated for their rights.
Behind Robredo's increasing popularity are fervent volunteers who exert time and effort to see their candidate surge past all other VP hopefuls. But why are they passionate about campaigning for Robredo? Gaining steam in social media is a post by Jayson Maulit, one of her youth volunteers. His Facebook post gives us a glimpse behind Robredo's popularity. Below is Maulit's post:
Just a few days in the campaign and I've already asked myself quite a few times if I have the resolve to finish this. I could stay online, share my views, rebut and engage, and still have a level of comfort because I can choose when and who to engage. The offline is very very different. You see people and their emotions and they're all very raw. Hindi ako prepared. (I was not prepared)
A few days in and I already had my heart squeezed multiple times. If politicians only knew those who are in the margins of society, I'm sure they'd have a stronger moral compass. If they only know their voters' stories and faces, they would think twice before they steal. It requires a different level of evilness to steal from the poor.
A good friend told me to write down the stories I encountered, so I don't forget. So that I know what our casus belli is. So I get to be reminded why I'm here. So you get to have a glimpse of what it's like.
My job requirement at this point is to meet up with officials from the barangay and local levels to know the local pulse and see what needs to be done. I had to call people whom I don't know, and whose political affiliations are not indicated. For all we know, sa kabila pala sila (it turns out that they are supporting a different candidate). Masakit ma-reject. (It hurts to be rejected).So far, I've had a 100% meet-up rate, and every time I utter the words "Cong. Leni", I could feel them getting excited, like their voices are wearing a wide smile.
The project I did a couple of years ago trained me to talk to the A-C market, which I find comfortable. Most people I've met for the campaign are from the D-E classes. Call me boastful or sheltered, but it is more challenging to connect, for I know very little of their real struggles. Privilege makes you uneducated in a lot of ways, and you get educated in a painful way.
One of the kagawads I talked to yesterday told me this:
"Sir, akala ng mga pulitiko na ang mga mahihirap ay bobo at madaling utuin. Alam naman namin ang tingin nila sa amin eh, na pang-tapal lang. Nakakahiya po dahil ang mahihirap binebenta ang boto at prinsipiyo. Pero para sa karamihan, para saan po ang prinsipiyo kung gutom naman ang pamilya mo?"
(Sir, politicians think that the poor are stupid and gullible. But we know that they view us as just plasters for their votes. It is shameful that the poor have to sell their votes and principles. But for the many, what good is the principle for if your family is hungry?)
I asked her next why she readily met up with me (of course I was fishing, but her answer surprised me). Her reply was:
"Mahal namin si ma'am Leni."
(We love ma'am Leni.)
I asked "bakit po?"
(Why?)
"Kasi nung nagpunta siya dito, iba 'yung tingin niya sa amin. Ibang-iba sa lahat ng nagpunta dito."
(Because when she went here, she looked at us differently. Very very different from everyone who has ever gone here.)
"Paano po ba kayo tignan ng ibang pulitiko?"
(How do other politicians look at you?)
"Ngingiti at yayakap sa picture pero ramdam mong diri sila. Pag tinignan ka nila, pakiramdam mo ang liit mo. Pakiramdam nila nabili ka na."
(They will smile and hug you for the pictures but you feel that they are disgusted. When they look at you, you feel small. You feel like they've already bought you."
"Eh si Cong. Leni po paano naiba?"
(How was Cong. Leni different?)
(Slightly tearing up)
"Nung nagpunta siya dito, excited siya. Para siyang nanay na excited makita ang anak niya. Nanay ako sir, alam ko 'yun. Ramdam ko 'yun. Pag tumingin siya sa amin ramdam mo 'yung sinseridad at respeto. Naramdaman naming mahalaga kami. Kasi nung kinakausap niya kami, naramdaman naming tao kami at hindi boto."
(When she went here, she was excited. She seemed like a mother who's excited to see her child. I am a mother, sir, so I know that. I felt that. When she looks at us you can feel the sincerity and respect. We felt that we were important. Because when she was talking to us, we felt that we were people, not votes."
She then said that she's sorry she can't find the words to explain, so I might not be able to understand. But I did. I did. I know that feeling of your candidate adding or removing worth to your being just by looking at you. At that moment, I felt envious that she's already met Leni. I also felt emotionally heavy. But above all, I felt that I made the right decision to stand with Leni.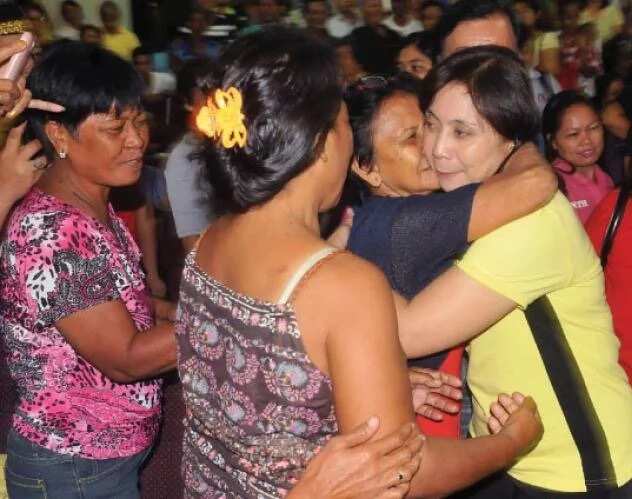 A few days in and my heart is already breaking. I wonder how Leni survives the everyday campaign. But if there is a takeaway from my experiences so far, it is that we all, at some point, have to go down the streets and meet the people so forgotten by the system. We have to stop seeing them as statistics but real humans.
Leni's political awakening was during the EDSA revolution. I've had strong political views in the past, but I am proud to say that my political awakening was yesterday, when I met Kgd. Tere of Manila's district 2. And it was because I chose to support a candidate like Leni.
We can all talk about our candidates' platforms, education, an experience. I will be happy to engage you with what Leni's plans are. But to the poor, the biggest voting population, yet the most forgotten, they rarely mean anything.
So let me ask you this: their intelligence and allegations of corruption aside, has your candidate looked at you and changed your life? The kind that just by looking at you, worth and meaning were added, and respect to a disgustingly dirty word such as a "politician" was restored?
I can say that about Leni Robredo. And I am proud to stand with her as my Vice President.
And so I promise that at that point when I'm tired and hassled, I will remember that conversation with Nanay Tere. I will remember how Leni looks at people. I know that remembering will help me carry on.
Malapit na. Abot-kamay na. Excited na ako! (It is near. It is within reach. I am excited!)
by Jayson Maulit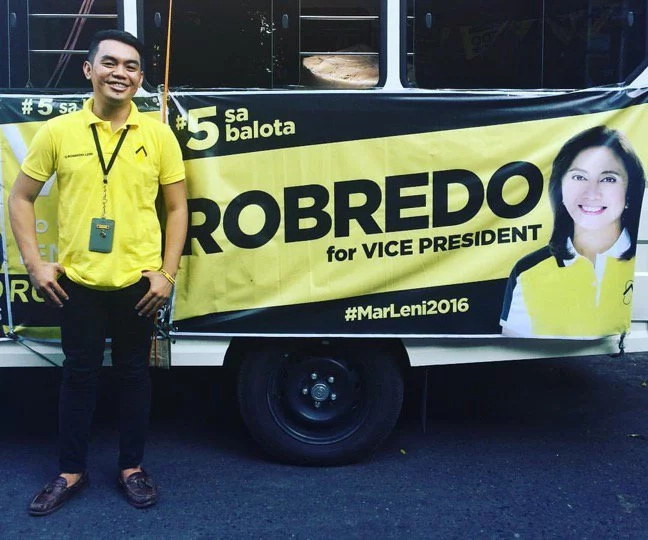 Jayson Maulit is a Legal Management major from San Beda College and a volunteer for Leni Robredo's Manila campaign. He is an internationally renowned debater. His tweets go from deeply political to profoundly hugot real quick.
Disclaimer: This is the view of the author and not kami.com.ph.
Source: KAMI.com.gh