- Monster Radio DJ Karen Bordador was arrested with her boyfriend, suspected drug user Emilio Lim, in a buy-bust operation in Pasig on August 13
- Friends and family took to social media using the hashtag #KarenBordadorIsLove to show their support for the DJ
- Bordador and Lim are currently detained at the Southern Police District headquarters in Taguig
The arrest of RX 93.1 DJ Karen Bordador has prompted her fans to use the hashtag #KarenBordadorIsLove on social media, where mostly family and friends expressed their support.
Bordador and her boyfriend, suspected drug user Emilio Lim, were arrested in a buy-bust operation in Pasig last week that led them to their current jailed status at the Southern Police District in Taguig.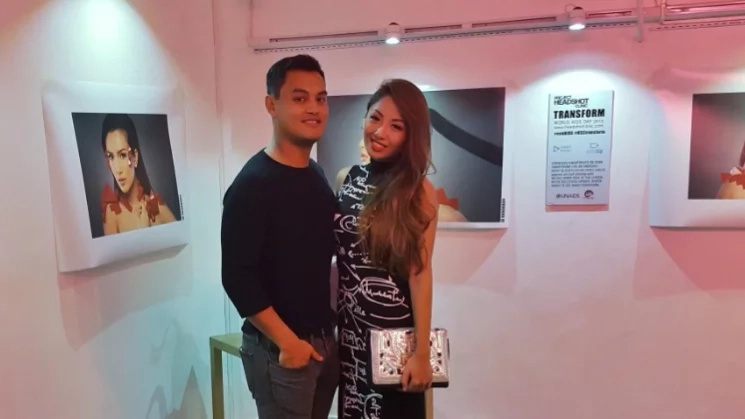 (Photo credit: darkmeetsbright.com)
Netizens had mixed reactions when they first heard of her arrest, ranging from shock, disappointment and even downright condescending. There were others who did not know who the DJ was, but still added their thoughts in the conversation.
READ ALSO: VIDEO: Radio DJ Karen Bordador, boyfriend arrested for allegedly selling DRUGS!
The hashtag that went viral on social media was started by Jocelyn, one of Bordador's older sisters. On behalf of the family, she posted their official statement on Facebook.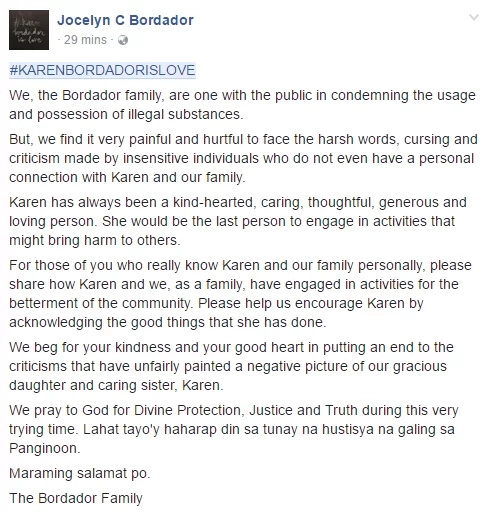 Prior to the family's collective message, she also had a post of her own for her 'baby sister' which has been shared and commented on by fellow supporters.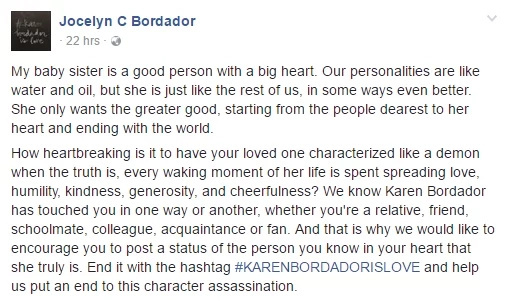 Friends shared their experiences with the DJ online – some got to know her briefly while others have known her for a long time.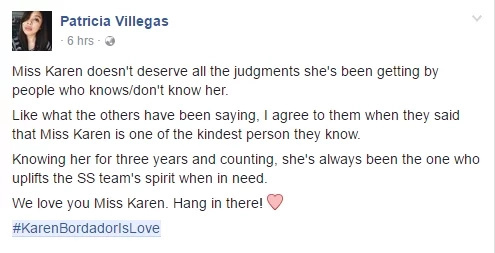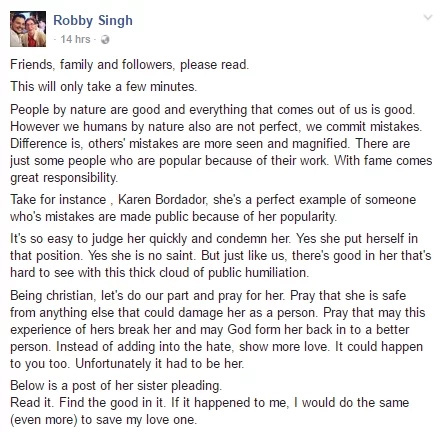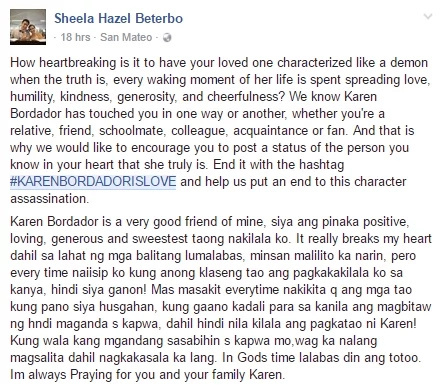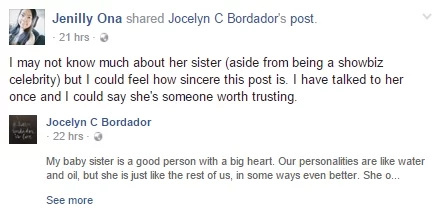 Others who took to social media were friends of the family, either the Bordador matriarch or one of the sisters.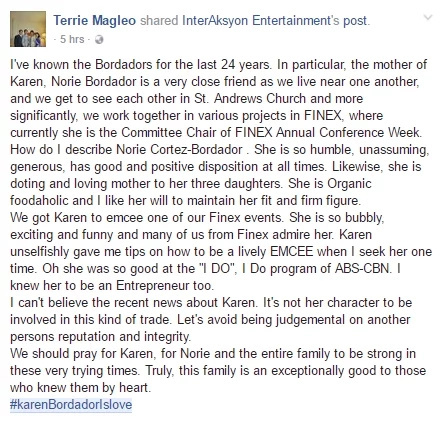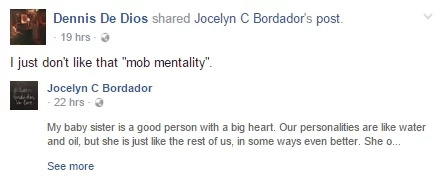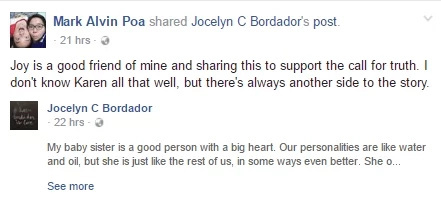 READ ALSO: DJ Karen Bordador not a drug pusher, says colleague
One Cate Aquino used the hashtag before it was used widely today, defending her friend immediately after her arrest.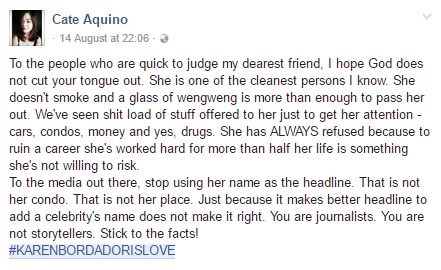 She used the hashtag again today, even posting on Instagram a photo of them along with other friends.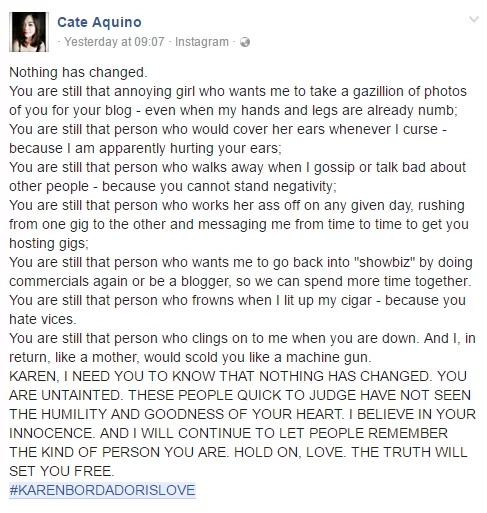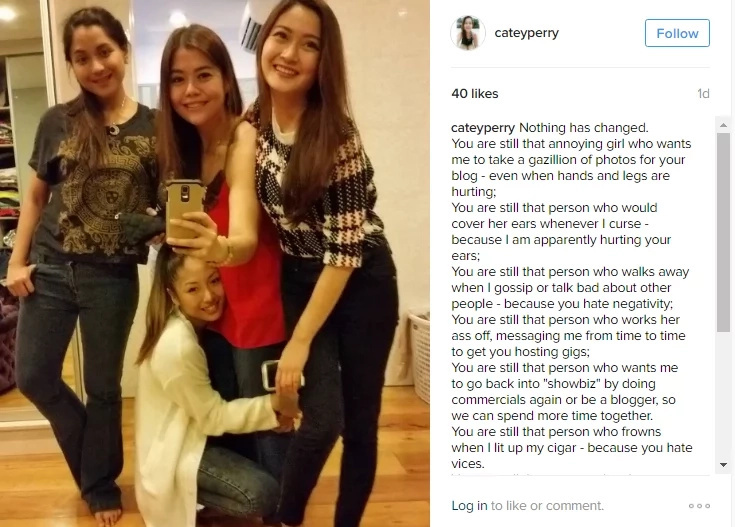 However, there are still skeptics who do not believe what the DJ's supporters had said about her.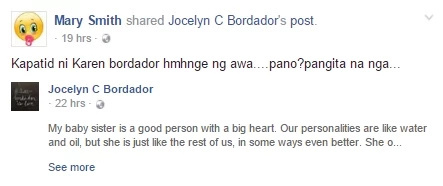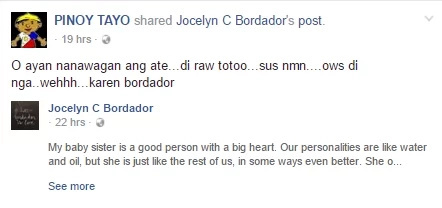 READ ALSO: Karen Bordador's mom on drug issue: My daughter is innocent!
Do you sympathize with the family or do you still believe that the results of her drug test are already proof that she is not innocent?
As always, let us know in the comments what you think!-Kami Media
READ ALSO: Police said DJ Karen Bordador helped boyfriend in selling ecstasy
Source: Kami.com.ph