- The Liberal Party (LP) expressed their support to Senator Leila De Lima after President Rodrigo Duterte attacked the senator in his speech
- The president earlier referred to De Lima as an "immoral woman" in his speech next to members of the Philippine National Police
- De Lima cried foul on President Duterte's allegations saying it was character assassination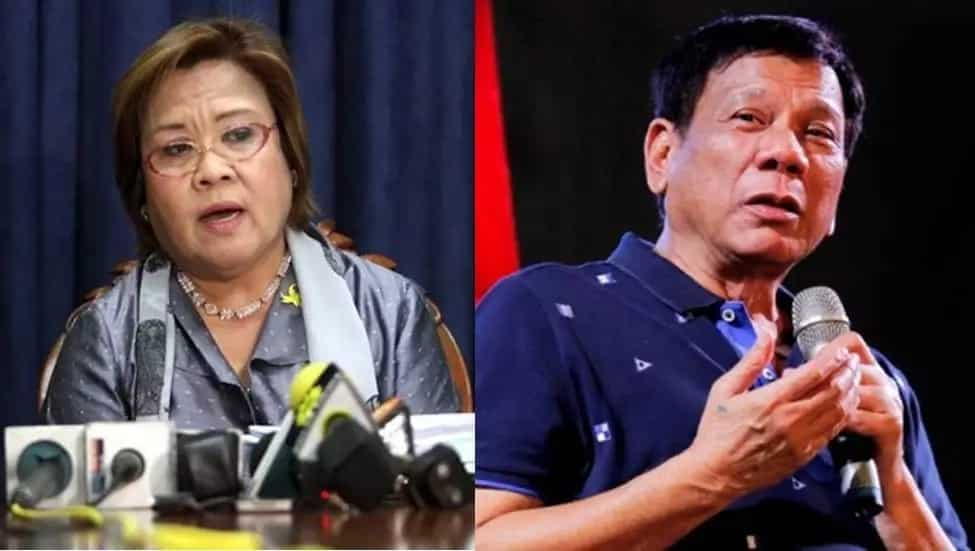 The Liberal Party (LP) expressed their support to Senator Leima De Lima Thursday morning after President Rodrigo Duterte attacked her in his speech during the 15th anniversary of Philippine National Police on Wednesday.
"She deserves support, not condemnation; respect, and not gutter language; she and our people deserve the facts, not innuendo," LP said in a statement.
According to LP vice chair and Senate President Pro-Tempore Franklin Drilon, the party will stand by the senator. He also said that the Senate President should take a stand on this unprecedented attack on the lady senator.
READ ALSO: VIDEO: Funny DOG passes out after sniffing its owner's smelly ARMPIT!
De Lima's party-mates also called on for senate as an institution to support De Lima who is only doing her duty as an elected lawmaker.
"To this end, we call on the Senate President to uphold the independence of the Senate whose membership must always be vigorously supported as they fulfill the people's mandate to make inquiries in aid of legislation," according to the statement.
Duterte earlier referred to De Lima as an "immoral woman" who was supposedly having an affair with her married driver.
READ ALSO: Guess what fantaserye pushed Alden Richards to go on a diet and work out
The president also accused De Lima's driver of collecting drug money for the senator during her campaign.
In an interview yesterday, emotional De Lima cried foul over the attack saying that she will not dignify the President's accusations. She also said that whoever gave the information to the president better be sure about the accusations.
Meanwhile, fellow LP senator Risa Hontiveros also expressed her support of De Lima and called out the President's remarks as offensive.
READ ALSO: VIDEO: Is Heart Evangelista ready to have a BABY with Chiz Escudero? FIND OUT her answer
"As a woman, I take deep offense at President Rodrigo Duterte's latest remarks against fellow Senator Leila de Lima. They are misogynistic," according to Hontiveros.
"It is also an awful display of ad hominem politics. President Duterte gave premium to personal attacks over real arguments, and appealed to prejudices rather than discourse", the senator added.
De Lima, in a press briefing Thursday morning said that while she was offended by the president's remarks and is worried about her family's safety, she will not stop her investigations on the rising number of summary executions.
READ ALSO: Global warming due to unleash toxic waste, radioactive chemicals and anthrax
She also asked the president to spare her family from the chief executive's personal attacks against her. "I am not the enemy here, stop portraying me as one", the senator said.
It can be recalled that the two have had heated exchange of words after De Lima called out Duterte's remarks on his administration's war on drugs. The senator also filed a resolution urging the senate to conduct investigations in aid of legislation for the rising number of summary executions since the President assumed office. -Kami Media
RELATED: Duterte sets aside talks with China over West Philippine Sea during ASEAN tour
Source: Kami.com.ph