- President Rodrigo Duterte is set to tour the ASEAN countries in the next few weeks
- When asked if he would bring up the West Philippine issue, he said he would not discuss the ruling of the Permanent Court of Arbitration
- Duterte stated that war with China is out of question and that there is a need to mend fences with China
President Rodrigo Duterte said Wednesday night that his administration would not discuss the ruling of the Permanent Court of Arbitration (PCA) against China's claim over the "9-dash line" until bilateral talks with China commence.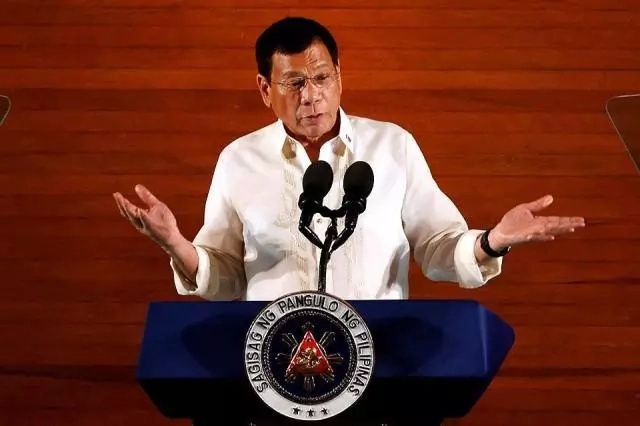 (Photo credit: gmanetwork)
In a statement, President Duterte disclosed that bringing up the arbitration may push China away from the negotiation table.
READ ALSO: Free to go! Arroyo allowed to travel abroad with hubby
'I will only bring the issue when we are together face to face. Because if we quarrel with them now and you claim sovereignty… they might just not even want to talk,' the President said after he was asked if he would bring up the ruling during his planned tour of the Association of Southeast Asian Nations (ASEAN) countries.
Duterte further added that envoy Fidel Ramos has already initiated talks and has been successful at mending the strained relationship between the two countries.
'Ramos is there paving the way for the good… of anybody or any other country. But we maintain good relations with China. Let us create an environment where we can sit down and talk directly,' Duterte said. 'That is the time I would say that, 'we proceed from here'. We proceed from this judgement.'
READ ALSO: The forgotten's appeal to the president: Contrasting hell and paradise justice in PH
Duterte mentioned war is not an option with China. Not only will war bring about a "massacre for all," Duterte does not want the relationship between the two countries to grow cold.
'What if (China) says, I do not want to quarrel or even speak with you'? Bahala kayo sa buhay ninyo (Do whatever pleases you), can we do anything? Can we declare war? It is not an option,' he said.
On July 12, 2016, the PCA ruled unanimously against China, stating that their claims to the "9-dash line" holds no legal basis. China has rejected the ruling, arguing that their claims are based on historical and international law.
READ ALSO: See the world's poorest president who gives out his salary
President Rodrigo Duterte appointed former President Fidel Ramos to mend the relationship with China. - Kami Media
Source: Kami.com.ph