- The Sandigayan has given President Gloria Macapagal-Arroyo and her husband  permission to travel outside of the country for medical and personal purposes
- The couple is set to leave the country for Munich on September 20 and expected to be back after November 4
- The former president is facing graft charges and breaching the code of conduct of public officials
Pampanga Representative Gloria Macapagal-Arroyo is traveling to Europe amidst her graft charges to consult medical experts and spend some vacation time with husband.
The Sandigayan said that the antigraft court's Fourth Division has granted the former president's travel motion to Europe to seek medical advice and the possibility of a stem cell treatment even as she is currently faced with two graft cases and one breach of the code of conduct of public officials.
It can be recalled that Arroyo has been tagged to the allegedly anomalous National Broadband Network-ZTE (NBN-ZTE) deal which took place during her term as president.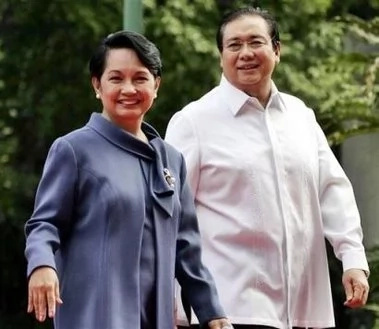 READ ALSO: Netizens react to ex-President Arroyo's nomination for House Deputy Speaker
"Acting on accused Gloria Macapagal-Arroyo's motion to travel abroad, and after considering the prosecution's comment opposition thereto, the Court resolves to grant said accused permission to travel abroad to Munich, Germany; Paris, France; and Hong Kong, Special Administrative Region of China," the court said.
As written on her travel motion, Arroyo is expected to leave the country with former First Gentleman Jose Miguel "Mike" Arroyo on September 20. The couple will be heading to Munich for a medical consultation and will be spending their time there until September 29. They will then head to Paris for a vacation which will last from September 29 to October 2.
Arroyo revealed that part of her itinerary is to meet with the Filipino communities both in Munich and Paris before they head to Hong Kong on October 29 until November 4 for a family reunion.
READ ALSO: Netizens react to ex-President Arroyo's nomination for House Deputy Speaker
Based on previous reports, the former president is suffering from cervical spondylosis, which is believed to be a degenerative disease that affects the bones and cartilage of the neck.
To add, she is also reported to be complaining from "generalized body weakness, persistent pain over the nuchal and left shoulder with numbness of both hands and frequent episodes of choking." This information has been obtained from the Veterans' Memorial Medical Center (VMMC) where she spent some four years under hospital arrest for her plunder case.
As part of their permission to travel, both Gloria and Miguel Arroyo are ordered to pay a travel bond of P300,000 and P90,000, respectively. -Kami Media
READ ALSO: Arroyo set to be one of the leaders of the 17th Congress
Source: Kami.com.ph