- A school in Cagayan De Oro City banned students from having romantic relationships 
- Officials of Golden Heritage Polytechnic College believe that students should avoid distractions such as being involved in romantic relationships while enrolled
- Last year, six students were expelled for not following the school's regulation
Schools are supposed to be an environment where students are encouraged to express themselves and learn things that they could use in real life.
College is a training ground for future professionals who plan to explore the corporate world and dive into different industries with the hopes of being successful in their chosen paths.
However, things can go wrong should things become unpredictable.
READ ALSO: An acid attack victim survivor will walk the catwalk in New York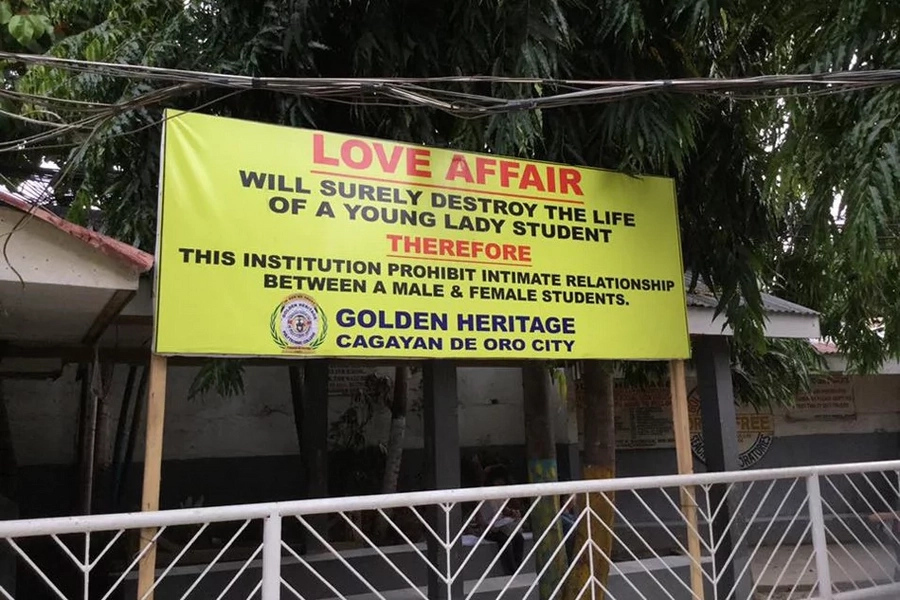 Distractions cause some students to divert their attention from something beneficial to things that might put their futures in jeopardy.
Reports of students getting pregnant in the middle of an academic year is not new to us.
Oftentimes, we could hear parents remind their kids about getting pregnant while chasing their dreams.
READ ALSO: Tourists terrified as glass bridge in China cracks
Golden Heritage Polytechnic College in Cagayan de Oro City banned its students from having romantic relationships as long as they're enrolled in the school.
School officials posted a huge tarpaulin at the school entrance emphasizing the school's policy. The reminder reads: "Love affair will surely destroy the life of a young lady student".
The announcement is also printed on teachers' uniforms.
READ ALSO: Newest Kapuso actress Inah De Belen to star in afternoon soap
According to the school's president, Capt. Tito Dichosa, the goal of the policy is to make sure that students will be able to graduate.
Dichosa said that he is personally frustrated everytime a student quits school because of getting pregnant. Six students were expelled from the school last year for violating the school policy. -Kami Media
RELATED: These funny Pokémon Go celebrity edition characters will make you go LOL!
Source: Kami.com.ph