DJ Karen Bordador positive in drug test; Ex-boyfriend mistaken as Emilio Lim
- FM DJ Karen Bordador tests positive in the initial drug test, but refused to sign consent papers
- DJ Karen's ex-boyfriend Chris Tan was mistaken as Emilio Lim and he came forward to clarify that he is not involved in illegal drugs.
- Bordador was arrested in Pasay City inside the condo unit of her boyfriend for alleged drug selling
Initial results of a drug test conducted to FM DJ Karen Bordador and her boyfriend, Emilio Lim, turned out as positive, according to the South Police District, according to Inquirer.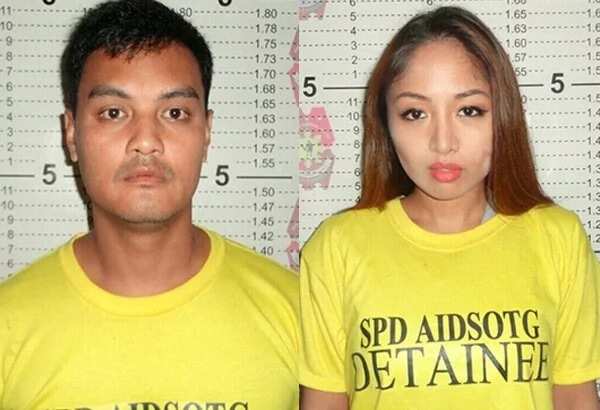 The case investigator added that while the Monster RX 93.1 radio DJ gave a sample urine to the police, she refused to sign the police request form indicating her consent.
READ ALSO: This is how celebrities reacted to the issue of Karen Bordador's arrest for selling drugs!
Bordador and her boyfriend were allegedly the suppliers of party drugs of upscale clubs. They were arrested during a buy-bust operation at a condo unit in Pasig City on Saturday afternoon. Police operatives said that the two resisted arrest by closing the door of the condo unit when the buyer identified himself as a policeman.
The DJ insisted that she just visited her boyfriend, but police said that she helped her boyfriend in selling drugs by directing high end clients to him.
According to reports, police found three million worth of party drugs like ecstasy, marijuana and marijuana oil. Also found are cash, counting machines, and other drug pharaphernalia. The target of the arrest was Bordador's boyfriend Emilio Lim, aka Edwardo Cruz.
READ ALSO: Police said DJ Karen Bordador helped boyfriend in selling ecstasy
The operation was conducted by the narcotics division of the Southern Police District in coordination with the Eastern Police District based from the tip fed by a Filipino-American identified as Evan Reynald Baylon. Baylon was arrested earlier after he was caught selling ecstasy at high end bars in Bonifacio Global City in Taguig City.
Investigation is already underway and the suspects were innocent until proven guilty.
Meanwhile, Bordador's ex-boyfriend Chris Tan was mistaken as Emilio Lim. In an interview with DZBB, he clarified that he is not involved in illegal drugs. The two were together in ABS-CBN reality show "I Do," but the couple reportedly have broken up in 2014, two months before the show ended. The couple was together for four years.
READ ALSO: VIDEO: Radio DJ Karen Bordador, boyfriend arrested for allegedly selling DRUGS!
Source: KAMI.com.gh