- A tiny rooster is the star of the parade because of its super-rooster strength
- It pulls an adult woman on the road
- It seems to be enjoying the attention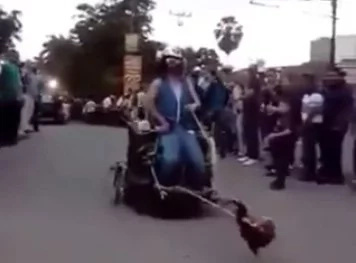 Whaattt!!! This seemed to be the most common reaction that many netizens gave after watching a rooster pulling a full-grown adult human on the road. The rooster was looking a bit wobbly, but it was able to pull the woman and for quite a distance at that!
At the start of the video, one could identify the tiny rooster from afar. It was attached to a cart, and apparently, it replaced a horse, or perhaps an animal that is much bigger and stronger than it is.
READ ALSO: Nothing to watch here, just an 18-foot python in front of shocked people
The rooster was walking happily, and looking proud at the weight that it is pulling. If it could think, then it must be thinking, "Everybody must be amazed at how strong I am!"
Looking at the video closely however, you could notice that the woman being pulled by the rooster seemed to be walking. Her lower body was hidden underneath the cart, covered in black cloth.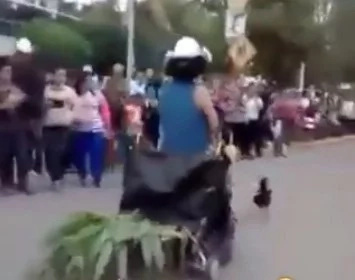 So as not to make the "secret of the human-pulling rooster" so obvious, the woman placed two "legs" in front of her so that she would conceal the fact that she was actually walking. She made it look so good though that you have to look really closely to see that she was indeed walking. If not for the movement of her upper torso, the video would leave your mouth agape!
Some Facebook users said that you would really think that it's the rooster pulling the woman, but it turns out it isn't.
One user even said that it could have been better if it were the congressmen and senators who were pulling the woman.
READ ALSO: Here's why Usain Bolt is probably not the world's fastest man!
Another user said, referring to the chicken, "Instead of engaging in cockfights, I'd rather drive people around."
Based on the reaction of the people watching, it would seem that the rooster was the star of the parade! – SD, Kami Media
READ ALSO: Woman regrets not replying to Schooling's Tinder message
Source: Kami.com.ph