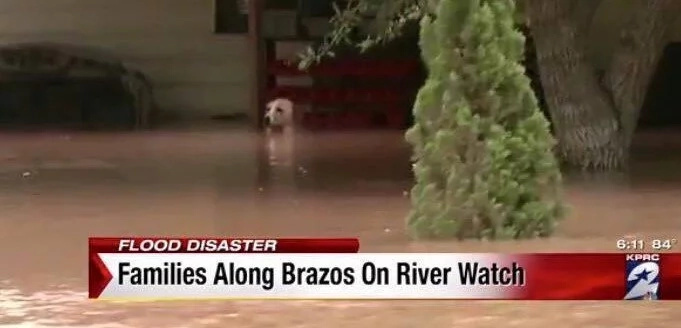 - This poor dog was tied to the porch as the flood waters rose around it
- The local sherriff was patrolling the flooded streets by boat when he noticed the poor dog neck deep in water.
- After saving the dog the sherriff's family decided to adopt the abondoned dog
During a flood this poor dog was tied to a porch, abandoned by its owners. The dog was already neck deep in the rising water when rescue came.
It would have died if not for the efforts of Sherriff Troy E. Nehls. The sheriff was patrolling the flooded streets, trying to assess the massive damage  caused by the flooding in Fort Bend Country, Texas.
READ ALSO: These praying girls have melted hearts across the internet!
"The only thing we could see was her head above the water. I had a news crew with me filming the flooding, and I said, 'We have to get that dog out,'" said Nehls.
After successfully untying the dog from the porch the sheriff and the news crew decided to take the dog to the Houston Humane Society. After it was concluded that the dog was in good health the Nehls family adopted the abandoned dog.
READ ALSO: The rare sand cat has been captured on camera at last!
READ ALSO: The actor that played R2D2 has passed away at the age of 81
Source: Kami.com.ph