Netizen comments Cebu Pacific staff. A really great story!
- A Cebu Pacific staff was praised by a netizen for showing a genuine customer care
- One Angel Lanie shared on Facebook how the staff helped his mother, who almost missed her scheduled flight from Manila to Cebu
- Lanie commended Tabares for her fast thinking and for being resolute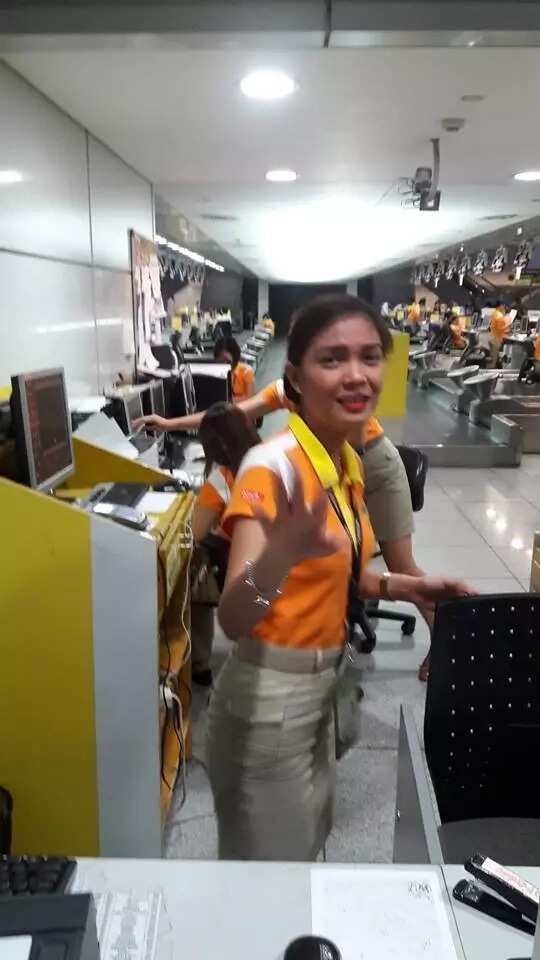 READ ALSO: Dear President Rody: Keep MARCOS in ILOCOS
Facebook user Angel Lanie shared his encounter with a local airline employee on Sunday, August 14.
According to Lanie, he admired the remarkable deed of this one staff of Cebu Pacific whom he identified as Chamille Tabares.
"I'd like to commend the exceptional customer service attitude of a cebu pacific employee assigned in NAIA3. Her name is Chamille Tabares from the domestic check-in area," he wrote in his post.
READ ALSO: FULL TEXT: VP Robredo's speech at the World Population Day 2016
Lanie narrated that his mother was about to take her flight from Manila to Cebu on August 10. Along with them were his nephews. They arrived at the airport a little fifteen minutes before the scheduled time of boarding.
His mother's ticket was secured through web checking and it only needed to be printed out before his mom could finally go straight to the boarding gate.
Everything was set until they found they were at the wrong terminal.
READ ALSO: This baby is about to have free Cebu Pacific flights for life! Find out why
"Unfortunately, my mother was not attended accordingly and was given the run around. She was told that she needed to go to terminal 4 to have her ticket printed," Lanie said.
What's even worse than transferring to another terminal blocks away from where they were was the thought of being stuck in traffic while on the way going there and ended up missing the flight.
"We got so worried as terminal 4 was a few blocks away and if we have to get back to the road to take the highway getting thru the heavy traffic, we would be risking missing my mother's flight," he furthered.
READ ALSO: Passenger who slapped a Cebu Pacific flight attendant turns out to be PNP officer's wife
Lanie admitted her mother also had a fault for not checking that her flight is at terminal 4. They then approach an employee and asked for assistance.
"I then approached a cebu pacific staff (ms tabares) and sought assistance on what can be done to help my mother not miss her flight," Lanie continued.
They expected to be ignored but this is what happened.
READ ALSO: Cebu Pacific responds to passenger hitting their cabin crew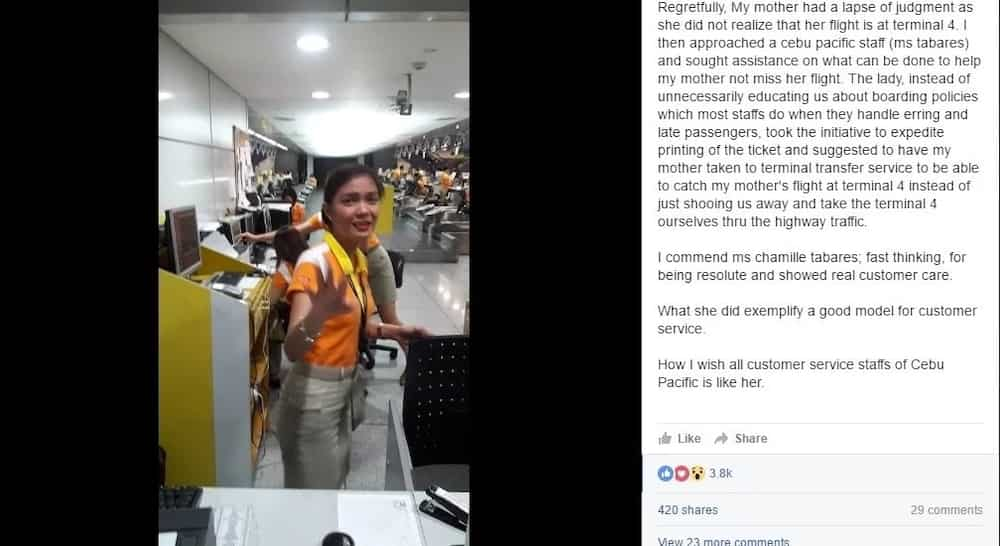 "The lady, instead of unnecessarily educating us about boarding policies which most staffs do when they handle erring and late passengers, took the initiative to expedite printing of the ticket and suggested to have my mother taken to terminal transfer service to be able to catch my mother's flight at terminal 4 instead of just shooing us away and take the terminal 4 ourselves thru the highway traffic," he recalled.
Lanie described the good role model staff as fast-thinker and resolute for showing real customer care.
Don't you wish every airline's employee – be it domestic or international – is like Chamille Tabares of Cebu Pacific? - Kami Media
RELATED: The reason why this child studies under a street lamp in Davao City will touch your heart
Source: KAMI.com.gh