- Last week, President Rodrigo Duterte threatened to declare Martial Law
- 'Bato' vowed to follow the President, even if Duterte imposes Martial Law
- Presidential Communications Office chief Martin Andanar said that Duterte's statement was taken out of context
Chief General Ronald 'Bato" Dela Rosa declared he would follow President Rodrigo Duterte through anything, even Martial Law.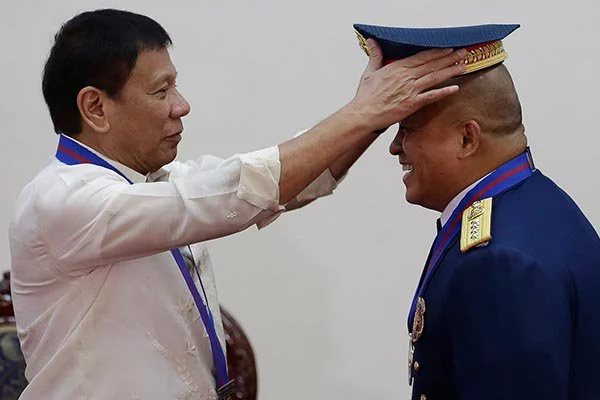 (photo credit: philstar.com)
READ ALSO: Duterte to ISIS: I can do better
Dela Rosa declared in a statement that he would be loyal to Duterte through heaven or hell.
'As I have said, I may sink or swim with the President. I'll go with him all the way. Whether we reach heaven or hell, I won't leave him,' the PNP chief said on Monday.
Even if the President declares martial law, 'Bato' Dela Rosa promises to stay by the President's side.
'If he decides to declare Martial Law for whatever, I'll support him,' said the General.
READ ALSO: Fight against corruption leads Duterte to be harsher on government agencies
President Duterte and Chief Dela Rosa have known each other since 1986. Having known the President for more than 30 years, Dela Rosa is certain that the President has no evil intentions.
In fact, the PNP chief promises that Duterte bases his decisions on the good of the people.
'His decisions are not influenced by politics. His decisions are for everyone's benefit,' Dela Rosa said.
The General added that Duterte is not in the seat of the Presidency for fame or personal gain; Duterte gives away the money he has.
READ ALSO: President Duterte not immune from prosecution for crimes against humanity – Senator De Lima
'Bato' Dela Rosa's statement came after President Duterte threatened to declare Martial Law last week. The president mentioned Martial Law when Chief Justice Maria Lourdes told judges not to turn themselves to the police unless the authorities could produce a search warrant.
Since then, President Duterte has apologized to Sereno.
Presidential Communications Office chief Martin Andanar defended Duterte, saying that the President's statement about Martial Law was simply a rhetorical question that was taken out of context.
According to Andanar, the President meant to say that the war on drugs could not suffer the slow process of bureaucracies, especially in the judiciary system. – Kami Media
Source: Kami.com.ph