- Quezon City Councilor Hero Bautista decided to undergo drug rehabilitation after admitting that he tested positive for drugs
- During a city council, Bautista admitted that he used drugs and plans to take on a leave in order to be rehabilitated
- Despite the situation, Bautista's family is still a strong supporter of the administration's war against the illegal drug trade in the country
Councilor Hero Bautista, the younger brother of Quezon City Mayor Herbert Bautista, goes on a leave from the city council after deciding to undergo drug rehabilitation.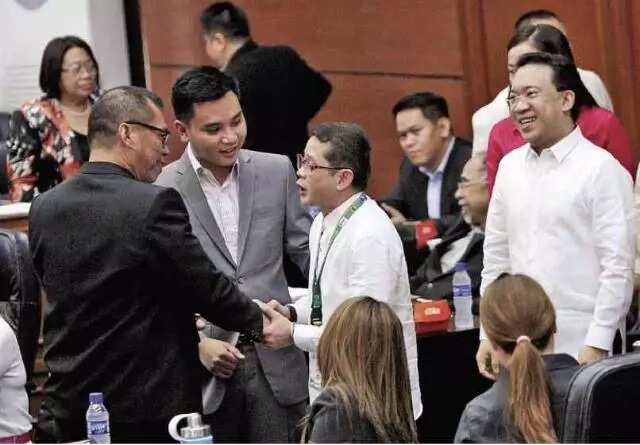 During a session of the city council, the councilor of the 4 district of Quezon City admitted that he is a drug addict and that he plans to change himself by getting subjected to rehabilitation.
READ ALSO: This baby is about to have free Cebu Pacific flights for life! Find out why
'Ang drugs ay, sa Tagalog droga. Ang test ay, pagsubok. Sinubukan ko ang droga,' said Bautista.
(In Tagalog, drug means droga. A test means to try or attempt. I used drugs)
He added, 'My brother, as mayor, will never be a drug protector. I am the protector of my brother. I am volunteering myself to embark on a journey, a journey of soul searching and self-discovery... Kumbaga sa radyo o TV (Just like in radio or TV), this is Hero Bautista, now signing off - a victim of a drug ménage.'
In Bautista's speech, he hoped that his current situation may serve as a lesson for other people involved in the illegal drug trade in the country. Moreover, the councilor said that he will return to public service after his rehabilitation.
'In my return, to champion the advocacy of the victims of nefarious effects of prohibited and illegal drugs, pro-active measures and programs must be undertaken by government to ease the pain of the victims,' he said.
READ ALSO: VIDEO: Lacson vs vigilantes! Senator dares PNP to stop summary KILLINGS
Meanwhile, Bautista's sister Harlene is asking for support and prayers for his brother. She believes that drug rehabilitation will change Bautista for the better.
'Masakit, mahirap, mabigat, di ka makapaniwala pero kailangan mong tanggapin. Kailangan mong kayanin para sa mahal mo sa buhay, para sa kapatid namin,' said Harlene.
(It is painful and difficult; hard to accept but you have to. We need to endure this for our loved ones- for our brother.)
Despite the challenge that their family is facing right now, Harlene said that their family is a strong supporter of Duterte's campaign against illegal drugs.
READ ALSO: Fight against corruption leads Duterte to be harsher on government agencies
Last August 6, Quezon City Vice Mayor Joy Belmonte revealed that a city councilor tested positive for drugs when they conducted a surprise test for the local government officials. While Belmonte did not mention any name, Hero Bautista chose to admit it himself in the city council. –Kami Media
Source: Kami.com.ph