- A Filipina gave birth to a baby girl in a Manila-bound Dubai Cebu Pacific plane
- One of the passengers narrated the story on a Facebook post which went viral
- The baby is believed to be granted free Cebu Pacific flights for the rest of her life
It was a 'normal' flight for the passengers of a Manila-bound Dubai Cebu Pacific flight, until a loud screech followed by tinier cries were heard inside the plane. It was when the passengers knew that a baby was born.
In a Facebook post by passenger Missy Berberabe Umandal, she said: "One of the "normal" flights became a memorable one when a co-passenger started having contractions mid-flight, while they were still five hours away from the Philippines."
Umandal narrated the event on her post, saying that the flight attendants, who were supposed to maintain poise every time, were panicking as they learned that a lady was having contractions.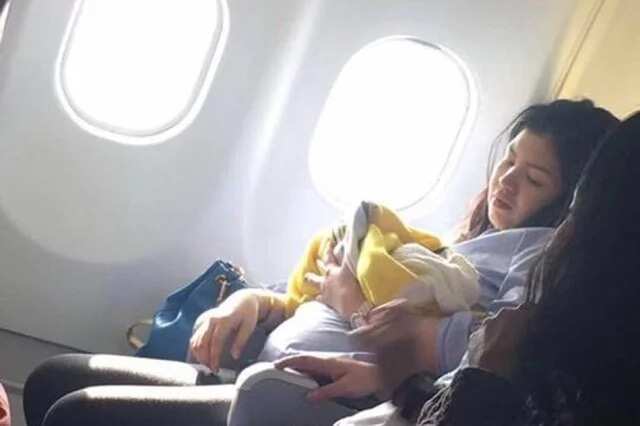 READ ALSO: Cebu Pacific responds to passenger hitting their cabin crew
Umandal said: "Flight attendants started calling for medical assistance, and luckily, there were two nurses among the passengers. She was already crowning, so she was brought to the more spacious area in front of the plane."
She stated that the woman, who was fetched by her mother from Dubai, was set to give birth on October so it was unexpected. The first time mom returned to her seat shortly after giving birth to a baby girl, and another passenger luckily brought infant clothes and provided some to the newborn.
"One of the passengers had a suitcase full of infant clothes and necessities, which could not have come at a better time. They had a sterilized shelf filled mineral water as a makeshift wash basin to clean the baby in," Umandal said.
READ ALSO: Cebu Pac's CEO flies PAL to avoid delay; still gets delayed
The pilot then decided to have an emergency landing in India for the baby's safety, causing a 9 hours delay of the flight.
Umandal said the baby might have the name "Haven", who will have a Filipino citizenship and a Philippine passport, but will considered born in India. As stated in The United Nations Convention on International Civil Aviation, under the 1961 Convention on the Reduction of Statelessness, a baby that is born on a ship or aircraft will take the airline's "citizenship".
According to Umandal, the baby will have free Cebu Pacific flights for the rest of her life-- a tradition practiced in many airlines worldwide, yet Cebu Pacific is still set to confirm. - Kami Media
READ ALSO: Cebu Pacific sorry for diverting flight to Mumbai
Source: Kami.com.ph