- A basher has left mean comments against Sunshine Dizon on her Instagram account
- Sunshine hits back and claims that this basher is her ex-husband's mistress using a dummy account
- The actress has an ongoing case against her husband Timothy Tan and mistress Clarisma Sison
Sunshine Dizon posted a collage of photos from her recent photo shoot for a feature by Ricky Lo on Philippine Star. She looked gorgeous wearing a red and blue dress in the photo.
Fans have showered her with praises for looking beautiful despite the condition she's in dealing with her estranged husband and her mistress, taking care of her kids, and balancing work as well.
In the comments section of that photo, however, one person doesn't quite agree with the others. This person has chosen to leave rude remarks and comments about Sunshine.
READ ALSO: Sunshine Dizon meets estranged husband's mistress: "I will not dignify her"
The basher with the username 'akosi_ikaw' has made Sunshine's fans angry. Her fans attacked this basher and defended Sunshine.
According to her basher, Sunshine only had endorsements because of her "cheater hubby" and that she's greedy when it comes to money. The basher also claims that the Encantadia actress wants a lifetime support from her husband's party because of what happened. Unfortunately, the basher deleted her comments not long after.
Apparently, this person has also left nasty comments in her other pictures that Sunshine has decided to step in and leave her piece.
READ ALSO: WHOA! Sunshine Dizon reveals slimmer figure on Instagram
Sunshine first gives a "fair warning" that she knows who this basher is, or rather, who they are. She added that she would file more cases against them if they continue with what they're doing, but she also admitted that she has already filed something on the "cybercrime division."

After that, she proceeded to tag her basher and said that the truth will always come out.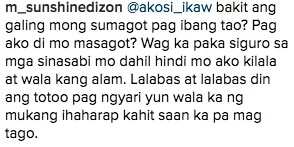 "If you think you can ruin me or fool everyone here with your stupid comments and know it all information about me your very wrong," she added. Sunshine also said that she doesn't need to defend herself because it wasn't her that ruined their family.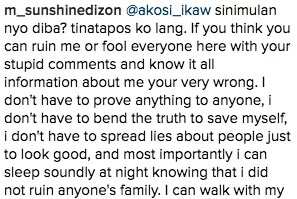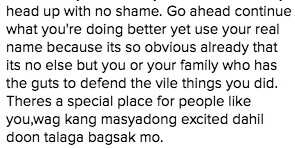 READ ALSO: Timothy Tan on legal battle against Sunshine: It's really problematic
On her final words, she commented: "There's a special place for people like you, wag ka masyadong excited dahil doon talaga bagsak mo." (Don't get too excited because you'll end up there anyway.) – Kami Media
Source: Kami.com.ph