- A video of a tornado in Binondo, Manila has gone viral
- Eye witnesses said that the tornado destroyed some of the structures in the area
- PAGASA reported that the weather in Manila will get better over the next few days
A video of a huge tornado sweeping parts of Manila has gone viral, with many netizens worried about the danger of such a rare weather occurrence in the country.
Contrary to popular belief, tornadoes do form in the Philippines but they are usually small and disappear quickly. This one in Binondo is a different kind of tornado, as eyewitnesses said that it lasted for a few minutes and caused some damage to some structures in the area.
The radar of PAGASA which was designed to detect the formation of tornado probably did not detect this tornado since it did not last for 15 minutes. Many observers believe that tornadoes in the Philippines might become stronger, longer-lasting and more common in the future.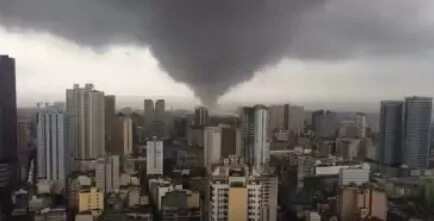 READ ALSO: VIDEO: Marian Rivera gets a surprise visit from a SPECIAL guest; WATCH her emotional reaction
The short footage was like a scene from a disaster movie with the dark tornado moving quickly through Binondo, Manila. Netizens were shocked with the video clip.
"Hala katakot (That is scary)," one online user said.
Some netizens were in disbelief of what they saw in the video.
"Shoooocks!!! Totoo???" another social media user commented.
(Shocks! Is this real?)
READ ALSO: These 10 Filipino celebrities are addicted to POKEMON Go; FIND OUT who they are
The Manila tornado formed during the heavy rainfall which started on Wednesday caused by the southwest monsoon. Flash floods ravaged some areas in Metro Manila, killing several people and displacing many residents.
Some residents were also advised to evacuate their homes due to the rising water levels in rivers. Due to the damage caused by the monsoon rains,  President Rodrigo Duterte on Monday inspected flood-hit areas while inside a helicopter.
According to PAGASA, the weather in Manila and other parts of Luzon is expected to get better in the next few days. However, a new low pressure area (LPA) was spotted east of Luzon which has the potential to develop into a cyclone.
SHARE this scary video with your family and friends! - Kami Media
READ ALSO: VIDEO: Watch this heroic DOG battle an armed robber to PROTECT its owner!
Source: Kami.com.ph