- A shocking video shows praying mantis captured by a guy for a very squeamish experiment
- The insect was placed on the water, with its abdomen submerged
- A huge worm slowly came out of it, killing the praying mantis in the process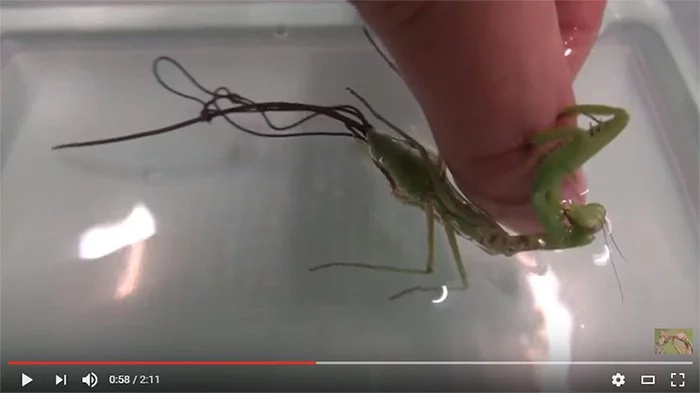 Who would ever think that the tiny body of a praying mantis is a host to a huge worm! One will never guess until this scientific experiment is watched.
In the shocking video, a guy apparently caught a praying mantis, which the latter didn't know it would be a part of some sort of experiment (obviously).
READ ALSO: Waxing salon used Pokemon Go in ad to lure customers
The guy then placed the mantis on water, holding the thorax (body) of the insect just above the water while ensuring that the insect's rear is submerged in water.
Little by little, one could see a tiny black thingy coming out of its rear. As the seconds passed by, the tiny black thingy starts to get longer and longer having a life of its own. Aside from the big worm, there were about four little worms that went out along with it.
READ ALSO: Inspiring boy opens his own animal shelter for dogs
That black thing is actually a parasite, which lives inside the praying mantis. Basically, like with other parasites, the worms feed off on the parasite, getting nutrients from the poor insect.
According to one commenter on YouTube, the praying mantis was already like a zombie, being controlled by the worm. He stated that the worm was using the mantis as a carrier, waiting for it to get to water so that the worm can breed. His point was that the mantis was already dead from the beginning.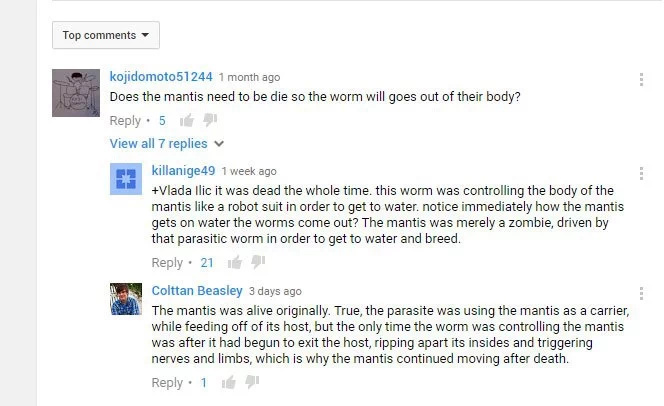 Another commenter said that while it may be true that the worm was making the mantis as the host, the only time that the insect really died was the moment that the worm(s) started coming out of its body. That was the time that the worm would tear the insides of the mantis, limbs and all.
READ ALSO: 3 bears swim in the lake among unsuspecting people (video)
Compare the size of the worm(s) as against the little abdomen of the praying mantis and you can't just imagine how the insect remained alive while the parasites were inside it. – SD, Kami Media
Source: Kami.com.ph