- Wife beats husband's mistress on the streets in a viral video
- The crowd cheered on the wife and booed on the cheating husband and mistress
- Sunshine Dizon decided to take the legal route in dealing with her cheating husband and filed a case against him and his alleged mistress Clarisma Sison
A video has gone viral showing a wife beating her cheating husband and his mistress on the streets.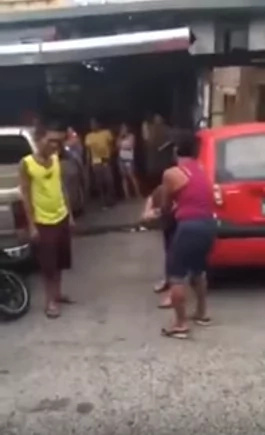 READ ALSO: Shocking video of how cheated wife throws mistress off a bridge!
The video was taken by a bystander who witnessed the fight. The wife is pulling the hair of the mistress while berating and cursing at her. The mistress was unable to do anything but curse at the wife. The husband tried to stop his wife, but she gave him a smack on the head. Unwilling to let go of her husband's paramour, the wife smacked and kicked the husband whenever he tried to defend the mistress.
The crowd cheered on the wife fuelling her adrenaline and confidence, while they booed on the husband. The husband was unable to use force to break up the fight due to a large number of bystanders enjoying the fight. At the end of the video, the husband was pushed by both women and the women walked away from the scene.
READ ALSO: WATCH: Boyfriend exposed his cheating girlfriend; what the guy did will shock you
The identities of the parties involved remained unknown. However, netizens claimed that the brawl on the streets is not the proper place to deal such issues.
This type of incidents is nothing new as there are a lot of videos online showing fights between two women. The cause of the fight – a man.
Legal action can also be sought by spouses who have been cheated on. Actress Sunshine Dizon recently filed a case to her husband Timothy Tan and Clarisma Sison for adultery and concubinage. The two parties saw each other in a court in Quezon City.
READ ALSO: Sunshine Dizon meets estranged husband's mistress: "I will not dignify her"
Watch the video below.
Source: Kami.com.ph