- Beneath the glory and honor of winning gold medals, various stories were shared during the 2016 Olympics game in Rio de Janeiro, Brazil
- The stories can be touching, romantic, but mostly inspiring for people to realize the kind of camaraderie the Olympics bring and why we join it every four years
- The subjects of these stories ranged from an Uber driver to the athletes you only see on your television
The Olympics originally started in Ancient Greece as a religious festival where the participants were worshipping while achieving glory. It ended on 4th Century A.D. under Christianity and was revived later on as the modern Olympics as we know it.
Every four years, athletes all over the world come together to honor sports and represent their respective countries. While everyone loves the adrenaline we all get from watching them compete, the great stories were actually told behind the golds, silvers, and bronzes of the competition.
Here are some of the unforgettable stories that happened in this year's Rio Olympics.
READ ALSO: Kenny Baker the actor that played R2D2 died at the age of 81
1. Woman from Chicago funded her Uber driver's trip to watch his competing son
Uber driver Ellis Hill was just proud of his son who will be flying to Rio to compete for the games. In his excitement, he shared the story with a random passenger. Fortunately for him, Liz Willock wasn't just any passenger. She's someone who can understand his struggles and created a GoFundMe account to finance his trip. The account raised $8,200 from donations of people all over the world.
2. Two Chinese divers got engaged on stage
Forget the proposals done on Disney parks with a musical number – Qin Kai made an unforgettable proposal to his fiancée and fellow diver, He Zi. She just won a silver medal in the women's 3-meter springboard final when he came up on the stage to propose.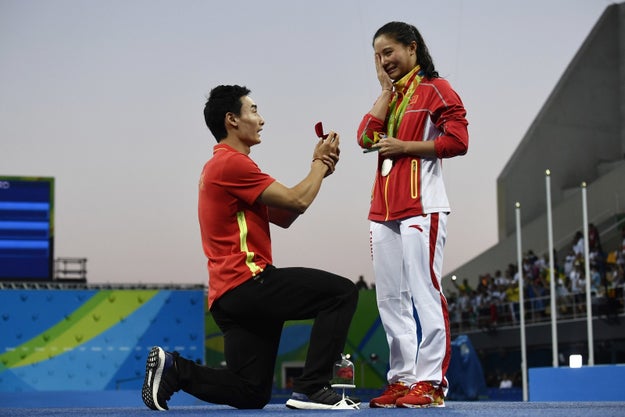 READ ALSO: Who could've known? Schooling met Phelps 8 years before beating him
3. Phelps lost in his last individual event to his own fan
After breaking records with his 22nd gold medal, everyone was rooting for Michael Phelps to get another gold on his last individual event. Instead, 21-year old Joseph Schooling beat him to it. People became excited when they found out that the two already met in 2008 when the US team stopped in Singapore before flying off to Beijing.
Phelps was proud of Schooling and said that he wanted to teach kids to know that sky is the limit and that nothing is impossible.
4. Athletes from North Korea and South Korea shared a selfie
Everyone knows the tension between these two nations ever since they decided to divide the country into two. All of those disappeared when gymnast Lee Eun-Ju snapped a selfie with her fellow gymnast from North Korea. Their picture quickly went viral and showed everyone why we do the Olympics and the spirit it brings.
READ ALSO: Cha-Cha hearing set on September
5. Team of refugees graced this year's competition
With the help of International Olympic Committee President Thomas Bach, a team comprised of 10 refugees was formed. Two were Syrian swimmers, two Congolese judokas, a marathoner from Ethiopia, and five runners from South Sudan. Despite not winning any medals, they won the hearts of people and the fact that they were in the Olympics were as good as a gold medal for them.
Aside from the physical and mental strain that these athletes experience just to join the Olympics, the trainings were also expensive. Money and recognition were given to those who manage to bring home medals but for those who don't, they still have to fund their own trainings and ask for sponsors just to continue doing what they love.
Source: Kami.com.ph