- Senator Franklin Drilon said that the Senate is set to hold hearings on Charter change (Cha-Cha) this September
- According to Drilon, the amendment of the 29-year-old Constitution is a top priority
-  Senate President Aquilino Pimentel III and House Speaker Alvarez earlier said that the Congress' discussion of Cha-Cha will be on January 2017
The Senate is set to hold hearings on Charter Change (Cha-Cha) on September this year, according to Senate President Pro-Tempore Franklin Drilon.
Drilon, Senate Committee on Constitutional Amendments and Revision of Codes chairman, confirmed on Sunday that the Senate will start the hearings on September 6 as the revision of the 1987 Constitution is a priority.
Drilon said: "The committee understands the importance of this undertaking as part of the agenda of the Duterte administration and has therefore decided to give it the highest priority."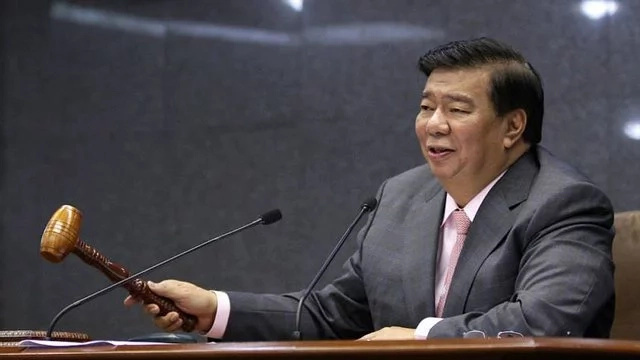 READ ALSO: READ: Duterte still pushing for a Con-ass despite opposition from the public!
This is despite the previous commitment of Senate President Aquilino Pimentel III and House Speaker Alvarez, having said that the discussion of Charter change in the Congress will be in January next year and that the first priority is the passage of the P3.3 trillion budget this year.
According to Drilon, the committee has made a decision to tackle the proposed Cha-Cha before the national budget proposal will be brought to the Senate by mid-November.
He added that the hearings will seek to provide the answer to the question whether or not there is a need of amendment and revision of the Constitution which is already 29 years old.
READ ALSO: Duterte threatens to shut down Congress; find out why
He mentioned that the committee will be needing direct and active participation of the Filipinos, saying that views and opinions all views and opinions will be heard. He said that the way towards constitutional reform will be "exhaustive, thoroughly consultative, and transparent."
The committee is set to invite resource persons from different sectors such as the business community, academe, civil society, labor, sectoral and religious groups, as well as Supreme Court justices with expertise in the Constitution.
Drilon stated that he plans on holding public hearings outside Metro Manila, mentioning Baguio, Cebu, and Davao. This, according to him, will "get the sentiments and views of local government officials and the public towards amending or revising the constitution."
Drilon then said that Filipinos should be informed and educated on the subject of Charter change, stressing the involvement and understanding of the people on how the reform will affect their lives in the succeeding years to come. - Kami Media
READ ALSO: No more party-lists in new Constitution – Duterte
Source: Kami.com.ph