- A video of a French Bulldog attacking and chasing off two bears to protect its owner's home has gone viral
- The two bears tried to fight off the small dog but it was just too aggressive
- Many netizens found it funny how the bears struggled to climb the fence while escaping the dog
A video of a French Bulldog attacking and chasing off two bears has gone viral. Netizens applauded the small dog's courage in trying to protect the house of its owners from the intruding bears.
The CCTV footage shows two bears entering a property to look for food. After a few seconds of roaming around the property, the French Bulldog started to attack the bears with wild abandon.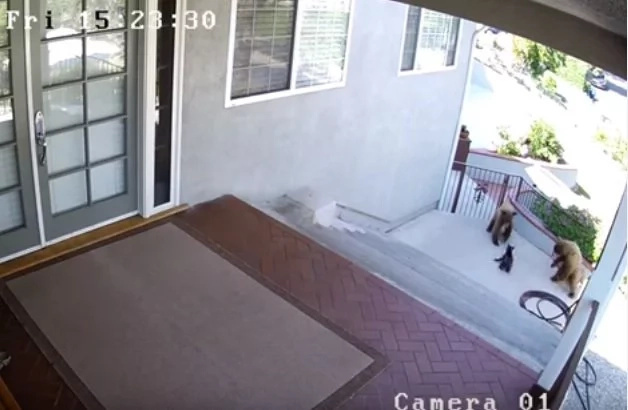 READ ALSO: Radio DJ Karen Bordador, boyfriend arrested for allegedly selling DRUGS!
One of the bears tried to fight off the bulldog, but the cute pet was just too feisty for the larger animals. The bears then tried to run and escape from the feisty canine.
But the French Bulldog did not stop there. It proceeded to chase off the bears until they went outside its owner's property. The bears can be seen towards the end of the clip struggling to climb the gate while escaping.
According to some of the comments of netizens, this footage shows the advantage of having a pet dog. Although French Bulldogs are known more as toy dogs, this clip proves that they can be excellent guard dogs as well.
READ ALSO: Ex-Chief Justice Hilario Davide Jr opposes DUTERTE; find out why
"Good for him, little dogs can take on animals much larger than they are," a netizen commented.
"Small dogs think they are a lot bigger than they actually are. Brave little dog! My chihuahua thinks he is a Doberman," another netizen posted.
One netizen who owns a French Bulldog said that this dog breed is really fearless even if it is facing off against much larger creatures.
"Only those of us who own Frenchies understand this! They are fearless and the cutest dogs ever! Frenchie Power!" the online user wrote.
SHARE this unbelievable video with your family and friends! – Kami Media
READ ALSO: Robredo to join anti-BURIAL rally vs Marcos; FIND OUT who else will attend
Source: Kami.com.ph