- A task force was on their way to arrest drug dealer Commander Madrox in a remote village in Midsayap, North Cotabato
- A gun fight erupted, resulting to the deaths of 8 and the injury of another 8
 - Unfortunately, Commander Madrox and his men were able to escape into the marshland
In an anti-drug operations in a remote village in Midsayap, North Cotabato, about 8 soldiers were killed while another 8 were injured.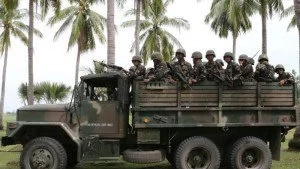 According to Colonel Noly Samarita, a government task force was about to arrest Moks Masgal, also known as Commander Madrox, the leader of "armed lawless elements," when a gun fight erupted.
READ ALSO: VIDEO: Ex-Chief Justice Hilario Davide Jr opposes DUTERTE; find out why
The operation happened around 4:30am at Barangay Nabalawag.
According to an Army report, the eight fatalities include: PO3 Darwin Espallardo of North Cotabato PNP, Corporal Jose Miravalles, Pfc. Jaypee Duran, both of Division Recon Company, and an unidentified military guide.
Eight men were injured, says Captain Joan Petinglay, the spokesman of the 6 Infantry Division. The wounded are now under medical care at Camp Sionco hospital.
Besides the soldiers, a civilian named Daib Malimbas from Nabalawag was also killed during the gun fight, according to senior Superintendent Emmanuel Peralta, chief of the Cotabato provincial police.
READ ALSO: CPP ends support on drug war
Furthermore, during the 6-hour firefight, Commander Madrox lost four of his men, including his brother.
Peralta also added that Commander Madrox used to lead a force of 50 armed men at the Moro Islamic Liberation Front (MILF), and now has turned to illegal drug trade.
The superintendent alleges that Commander Madrox is heading the distribution of shabu at the borders of North Cotabato and Maguindanao.
Earlier Sunday, August 14, 2016, a task force of Philipine Drug Enforcement Agency along with the North Cotabato police, military and the 6 Infantry Division Recon Company, were about to arrest Commander Madrox when they were fired upon.
'It is a joint operation and the targets were heavily armed,' Petinglay said.
READ ALSO: What Baron Geisler has to say about President Duterte's war on drugs; find out here
After 6 grueling hours of fighting during the night till sunrise, two MG-520 attack helicopters arrived. The helicopters forced Commander Madrox and his small army to escape into Maguindanao marshland.
The helicopters were then able to extract the soliders from the site. - Kami Media
Source: Kami.com.ph