- As her first Olympics approaches, Filipina marathoner Mary Joy Tabal said that she will run at her own pace on the marathon and will beat her personal best record
- For her to win a medal in the Olympics, Tabal said that she has to finish a total of 42.195 kilometers in two hours and 30 minutes
- While nervous and excited at the same time, Tabal ended her training last Friday under the strict supervision of coach Duenas
Filipina marathoner Mary Joy Tabal said that she hopes for the best results for the women's marathon on Sunday at Sambradome, Brazil and that she will run at her own pace at the Rio Olympics.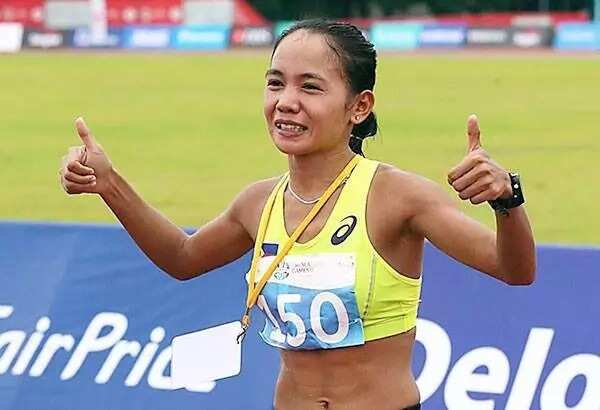 With her 5-week heavy training at Nippon Sports Sicence Institute in Japan, Tabal said that she will beat her personal best of two hours 43 minutes and 31 second.
'To be specific I just want to beat my time of 2:43 and run 2:40 or below. If I can do 2:40 then it will be a good finish for me. I hope I'm at my best condition on race day,' said Tabal.
READ ALSO: Find out how netizens reacted to the story of the Filipina pole dancer with 5 kids with fathers of different nationalities
According to the 27-year old Milo Marathon champion, she is being realistic with her goal because the existing record in the Olympics was set by Ethiopian Erba Tiko Gelena who won the gold medal in London in 2012 after finishing the marathon on 2 hours 23 minutes and 7 seconds.
Further, she said that it will only be possible for her to win a medal if she finishes a total of 42.195 kilometers in two hours and 30 minutes- the parade area used for the world famous Rio Carnival.
Under the strict supervision of coach Philip Duenas, Tabal did her last training on Friday and she will rest the following days to save her energy for the Olympics. Aside from a hard training, Tabal is also on a strict diet of carbohydrates (60%), protein (30%), and fat (10%).
READ ALSO: 7 celebrity kids who are into sports and not into showbiz
Being the first Filipina marathoner to qualify in the Olympics, Tabal said that she is nervous but excited at the same time.
'I'm still nervous because a lot of people are expecting too much from me. That's what I need to overcome. I also want to enjoy my first Olympics. I will run my own pace. I want my own pace in the first 30 kilometers. I don't want to over-speed and end up walking the last 10 kilometers. I don't want that to happen. I want to do it the way I did in Ottawa. I was relaxed at the start and gave it all in the last 10 kilometers,' Tabal stated.
Tabal said that she is ready for the marathon and is going to give her best for the glory of the Philippines. – Kami Media
READ ALSO: What to expect when traveling to the world's most popular tourist spots
Source: Kami.com.ph