- The Department of Environment and Natural Resources (DENR) confiscated a total of 15 snakes from the house of Mayor Ronald Espinosa in Albuera, Leyte
- According to officials, the mayor and his son did not have any certificate that would allow them to own snakes or to take care of them
- Residents from Barangay Benolho are now at peace knowing that authorities have taken the wild animals that might bring harm to them
Officials from the Department of Environment and Natural Resources (DENR) confiscated the snakes owned by Espinosa family.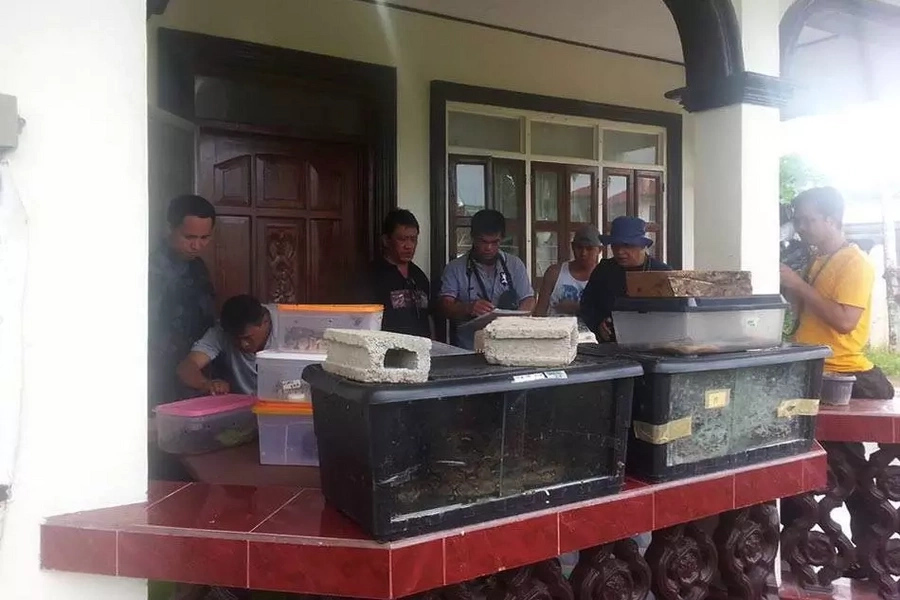 A total of 15 snakes were taken by DENR officials from the house of Espinosa family in Sitio Tinago, Barangay Benolho, Albuera, Leyte. Included in the confiscated snakes were reticulated python, yellow python, and green python. According to the authorities, two snakes already died because of the lack of care and proper treatment.
READ ALSO: VIDEO: Ex-Chief Justice Hilario Davide Jr opposes DUTERTE; find out why
Further, DENR officials reported that the snakes have not been fed yet for many days. They will be taken by DENR to the Regional Wildlife Rescue Center at Palo, Leyte where they will be fed and examined by a veterinarian.
According to DENR, Mayor Rolando Espinosa Sr. and his son Kerwin Espinosa do not have any certificate that will permit them to take care of such wild animals.
Many of the residents in Barangay Benolho said that they feel peaceful and happy now that the snakes were taken by authorities because they feared that the snakes might escape from their cages and bring harm to the people.
READ ALSO: CPP ends support on drug war
Some of the animals owned by the family were not taken by the authorities, which include their three dogs and some chickens used for cockfighting. The Philippine National Police said that some of the chickens owned by Kerwin were already stolen by unidentified residents in their area.
The animals under the care of Espino were not given proper treatment when the Mayor was named as one of the "narco-politicos" in the country. Kerwin Espinosa is currently hiding from the authorities.
Last Wednesday, PHP 88 million-worth of illegal drugs were confiscated by police in the house of Mayor Espinosa.  Officials said that they found 11 kilograms of narcotics and several high-powered firearms. – Kami Media
READ ALSO: Misuari stood up meeting with DU30
Source: Kami.com.ph