- Hannah Cariño, who works as a pole dancer, first appeared in afternoon game show 'Wowowin', where she shared her unusual story
- It has since been picked up by human interest program 'Kapuso Mo, Jessica Soho' where Hannah got to expound her story
- Netizens have reacted positively to her story, who commended her for not giving up on her five children
The story of pole dancer Hannah Cariño fully unfolded in 'Kapuso Mo Jessica Soho' which was aired on July 31, 2016. Her story is one for the books since she has five children with different fathers of different nationalities.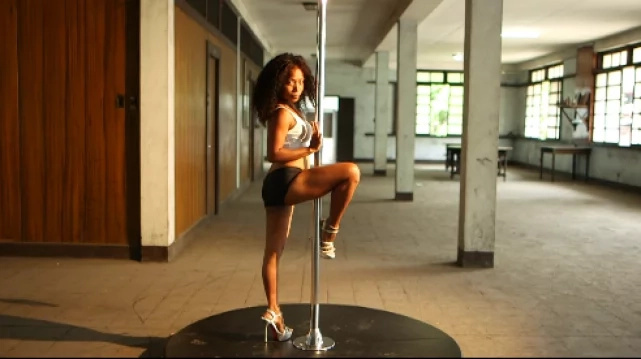 (photo credit: gmanetwork.com)
Her first born was sired by a Korean national while her second eldest was by a Canadian. Thereafter, Hannah had an affair with an Indian national who got her pregnant with her third child.
When her relationship with her Indian lover fizzled out, she fell for a British customer in the bar she was working in at the time and got pregnant with her fourth child. Hannah then realized that she is unlucky with foreigners and eventually hooked up with a local policeman in Fort Bonifacio a year after giving birth to her fourth child.
READ ALSO: WATCH: Inspiring story of Filipino pole dancer with 5 children to 5 different fathers
Hannah's story, however, is not defined by the number of sexual partners she had with men of different nationalities but her struggle as a pole dancer to make ends meet to raise her children. She admits that she contemplated having an abortion but her will to keep her children got the best of her.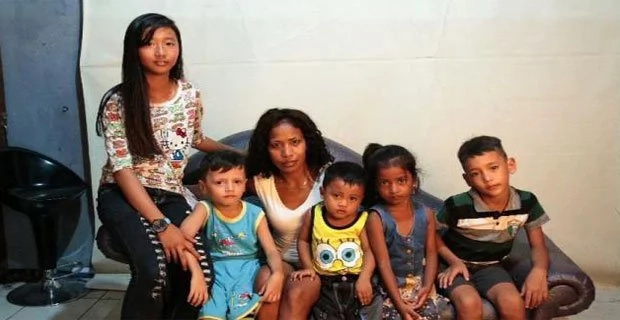 (Photo from KMJS, GMA Network)
Most netizens were moved by her story and took to YouTube and Facebook since the clip of her feature were uploaded on both social media sites.
Most commenters on Facebook commended her for her persistence and strength for not giving up on her five children.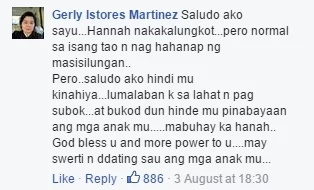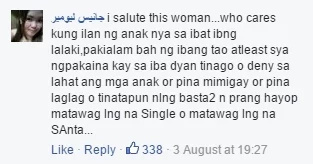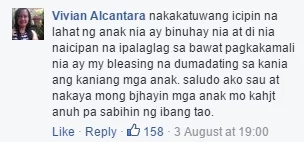 READ ALSO: Watch this hilarious video of dispute between a prostitute and her client!
There were some who got teary-eyed upon watching her story, who still joined the rest in commending her for raising her kids well despite her situation.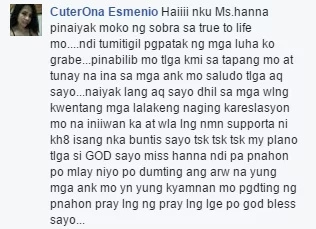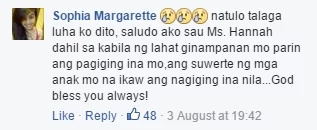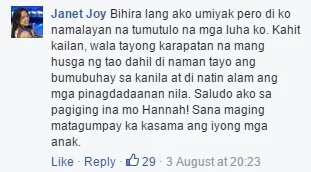 Others expressed that she should get a better job now that her story has been revealed.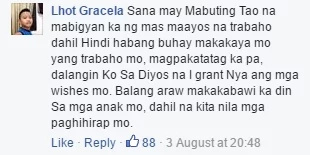 There is one comment that stands out since it reveals an unspoken truth everyone is aware of.

READ ALSO: See how "Game of Thrones" actress became a star of the new Pokémon porn!
However, comments on the video's YouTube page vary. While most are moved by her story, there were some who were not. They took a dig on her promiscuity and saw that it would have a negative effect on her children.


There was this one detractor who eventually sympathized with her since she also got to meet her mother late in life.
READ ALSO: Beautiful Rio escort girl shares her amazing plan how she would win "gold medal for sex"
Of course, there will always be those who see things positively and support those who are trying their best to improve their living condition.



Lastly, some gave Hannah pieces of advice that might help her to trace the identities of her father's children as well as what could be done with them.


On which side are you on? Do you find her story touching and inspiring, or do you find her story unsettling to be inspired by? Share in the comments what you think!-Kami Media
READ ALSO: DOJ Sec tags religious group involved in drugs, prostitution
Source: Kami.com.ph