- Baron Geisler and Kiko Matos met again on Friday in "Dutdutan 2016"
- The two entertained the crowd as they shared a smooch while they were inside URCC ring,finally ending their feud
- Baron and Kiko fought in an exhibition match last month which ended in a draw
Baron Geisler and Kiko Matos are now making love and are done with war when the two met once again on Friday evening, in a Universal Reality Combat Championship (URCC) stage in World Trade Center ahead of "Dutdutan 2016".
The two were present at the event, who once again entertained URCC fans when the two shared a kiss in the URCC stage. The crowd was at first convincing the two to do another fight but the audience soon changed the chants into "Kiss! Kiss!"
Baron and Kiko granted what the people want and eventually gave each other a quick kiss, to show that they are finally ending their controversial feud. Baron was seen wiping his lips after the kiss, but the two seemed to be having fun inside the ring.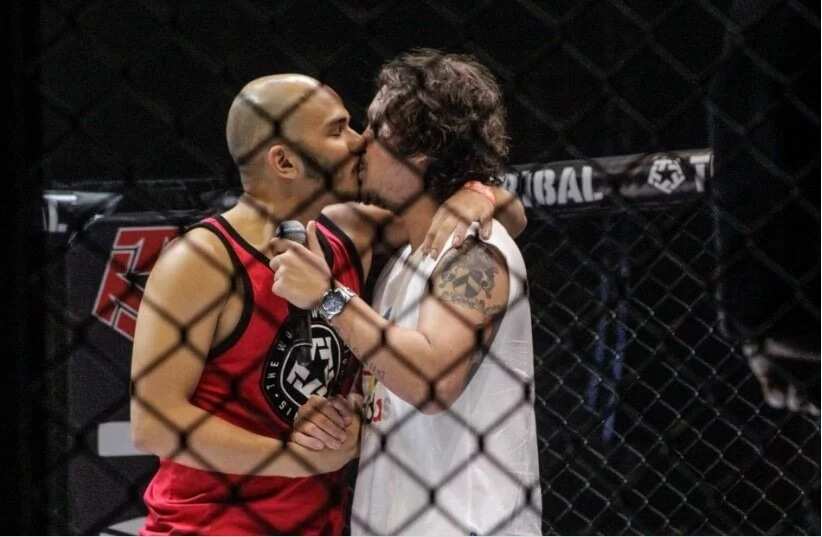 READ ALSO: Baron Geisler vs Kiko Matos rematch to happen as Geisler open for another fight?
Baron then blurted out "P**ng ina mo, Kiko!", mentioning that there were women watching, but the two just laughed it off together with the crowd.
Baron and Kiko squared off in a URCC exhibition match in Valkyrie Club, Bonifacio Global City last month which resulted in a draw. The event was jam-packed as curious fans gathered to find out who would win the fight.
In the end, the two gave each other a hug, Matos saying: "Wala na kong galit kay Baron. 'Yung mga asaran namin, asaran lang 'yun… Wala nang dapat pag-awayan, OK na po ako kay Baron Geisler."
READ ALSO: PHOTOS: What went on during URCC Fight Night
(I have nothing against Baron anymore. Our conflict before, I'm done with that. There is nothing to fight about anymore. I'm okay with Baron Geisler now.)
"Dutdutan" is one of the most anticipated annual tattoo exposition in the country where acclaimed tattoo artists and enthusiasts gather in one event. This year's Dutdutan included tattoo competitions in 15 categories, with 140 tattoo booths and band performances. There was also a Mixed Martial Arts event and a Bikini contest. - Kami Media
READ ALSO: From fighters to lovers: Kiko Matos open to doing intimate scenes with Baron Geisler
Source: Kami.com.ph