- Moro National Liberation Front (MNLF) leader Nur Misuari did not show himself up as President Rodrigo Duterte traveled to Sulu for their supposed meeting
- Duterte instead held a closed door command conference with the military troops
- Duterte still vowed to talk to Misuari after presidential peace adviser Jesus Dureza meets with the Muslim leader
Moro National Liberation Front (MNLF) leader Nur Misuari did not show up in his supposed meeting with President Rodrigo Duterte who personally traveled to Sulu on Friday.
Duterte went to the southern island province of Sulu to pursue the government's plan to have peace talks with the Muslim leader. Misuari, not showing up, Duterte stayed in the military camp instead for a closed-door command conference with the military troops.
Despite Misuari's no-show, Duterte confirmed that he will still be talking to the MNLF leader following presidential peace adviser Jesus Dureza's meeting with Misuari.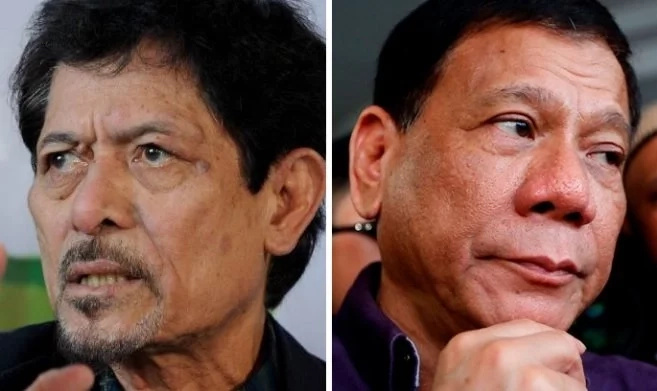 READ ALSO: Duterte seeks peace with Misuari
Duterte told reporters: "I will speak to Nur Misuari, for sure. Because after the panel meetings, it goes up to us. We will be talking by then and I'll be asking him. Are we OK now, friend?"
Zamboanga City government has led the filing of rebellion and crimes against humanity charges against Misuari for the Zamboanga siege, which his supporters carried out. The siege which lasted for several days had left 200 people dead.
When asked if he is set to meet with Zamboanga City Mayor Maria Isabelle Salazar to convince her to dismiss the filed charges, Duterte said: "Better talk and have peace than continue war. We cannot continue rebellion."
READ ALSO: LOOK! Duterte holds meeting with militant leaders after SONA
According to Presidential Communications Office Secretary Martin Andanar, Duterte's visit in Sulu was part of his military camp tours in boosting troops' morale. The president has visited 10 military camps in different parts of the country since he assumed office.
Andanar said: "He wants them to feel the presence of their commander in chief. So he's being a father visiting his children so they would not feel they are being taken for granted. That is the mark of a compassionate commander in chief."
He added that it is the president's way to directly speak to the military  troops and to directly address his directives to them. - Kami Media
READ ALSO: LOOK: Duterte wants war in Mindanao to end; vows to find way to end conflict
Source: Kami.com.ph