Netizens scared to bash Kitty Duterte's musical.ly video
- Veronica "Kitty" Duterte's musical.ly video compilation already gained more than 200,000 views on Facebook
- Netizens have observed that there were no bad comments on the video saying that bashers were afraid of her dad, President Rodrigo Duterte
- Kitty is the president's youngest daughter
Netizens surely wouldn't want to have a taste of President Rodrigo Duterte's ironfist.
A recent musical.ly video compilation of Veronica "Kitty" Duterte was uploaded on Facebook yesterday, August 12, and it already gained more than 200,000 views, 10,000 likes, and 4,000 shares. Netizens immediately observed that there were almost no bad comments on the video, others saying that the bashers were scared of the President.
However, some say that the video was actually nice and there is really nothing bad to say. Facebook user Acire Ocgniwal Nalaznup commented: "HAHAHAHA!! Kagabi nung napunood ko si Kitty sa TV naisip ko siguro hindi sya magkakaroon ng basher at nung pumunta ako dito NO BAD COMMENTS takot nalang nila kay Pres.Duterte."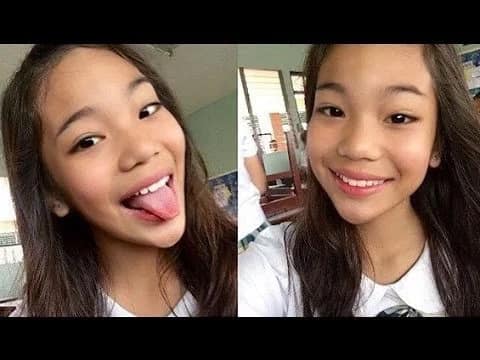 READ ALSO: Kitty Duterte helps in washing their clothes
Here are some of the netizens' Facebook comments on Kitty's video:
Daniela Ruth Laoreno: "nakakatawa walang bashers pano takot kay pres hahahaha"
Denise Loyola: "tignan nyo comments hahahah walang negative takot mamatay"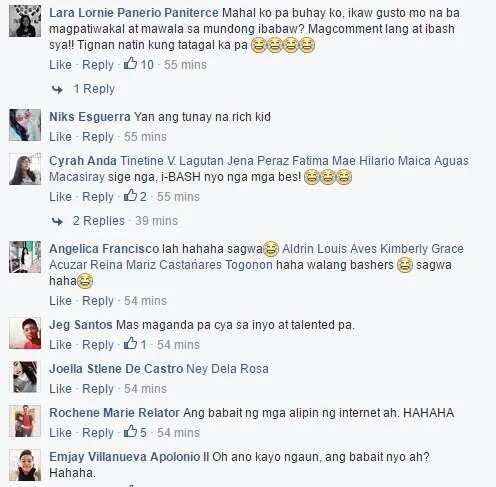 READ ALSO: Malacañang welcomes a stylish Inday Sara
Kim Gatoc: "Sige nga bash mo nga? Para bukas di kana sikatan ng araw hahaha."
Alynn Tongco: "Yung mga gusto magsuicide dyan pwede nyo na ibash si Kitty. Tngnan nyo mga tao sa comments section, ang babait. HAHAHAHHAHAHAHA"
Abby Rocamora: "Pano kaya kapag may manliligaw dito yare kay Digong pag niloko to Naka ready na agad kabaong"
READ ALSO: 16 things you need to know about the 16th President of the Philippines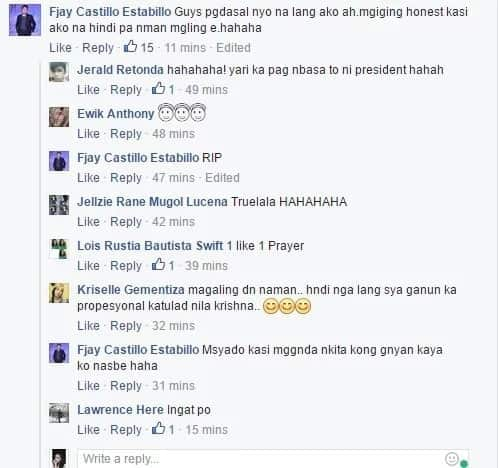 One brave soul tried to comment his honest observation and Facebook users started replying comments such as "RIP" and "1 like 1 prayer".
Kitty, 12, is the President's youngest daughter. Kitty has been tagged as the president's "time-keeper" because she always reminds her dad and even walks up on stage in the middle of the president's speech just to whisper to him that he's taking too much time speaking. The president, who is known to be a tough man would simply reply, "Anak, sandali lang ha, mga 10 minutes." - Kami Media
READ ALSO: 5 reasons why Pres. Duterte is the most humble president ever
Source: KAMI.com.gh