'Gateway to hell' in the PH caught on video
- A video of a vacant lot in Balas, Maasim, Sarangani, Philippines showing a strange phenomenon of turning the area in an-inferno like place has gone viral
- The video features a vacant lot erupting fire with an unknown reasons
- The video has gone viral with many residents calling it a result of climate change
Have you ever wondered how it's like to travel through a portal connecting to the underworld?
While many movies have already depicted how travelling to hell may look and feel like, there's no real evidence and account of real people that would affirm such a phenomenon.
While many people believe in the existence of a God, not everyone agrees that there is such a place as heaven and hell. As a result, we could only use flowery words to image hell and heaven.
READ ALSO: If you look closely at this spooky photo it will send chills down you spine!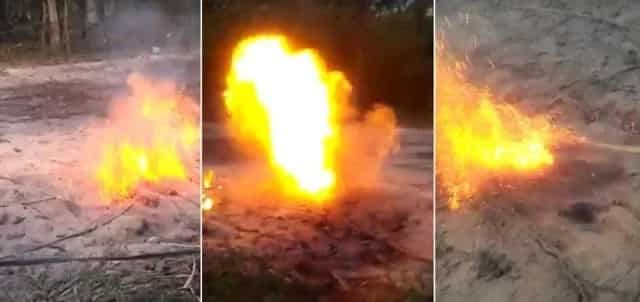 This place in the Philippines, however, kind of gave us a clue of how travelling through a portal headed to hell looks like.
A video of a vacant lot in Balas, Maasim, Sarangani, Philippines showing a strange phenomenon of turning the area in an-inferno like place has gone viral.
The video uploaded by a resident of the village identified as Jover Lim Pelones featured a vacant lot which turned into a flaming ground without a clear reason.
READ ALSO: Suddenly a dog grabs a little girl and pulls to the side. Then the family sees why…
Fire can be seen erupting from the ground by just throwing something into it. Villagers in the area believe that the place is enchanted and in fact a portal leading to hell.
After the video has gone viral, many speculated about the real cause of the fire. Some said that it was because there were gunpowders in the area which were mixed with the sand and stirring it would ignite chemical reactions.
Others theorized that the phenomenon is a result of climate change.
READ ALSO: 8 secrets about the male erection revealed. Number 2 will surprise you
What baffled the residents in the area is the fact that the fire won't stop even if water is poured on it. It appears as if the water even makes the fire stronger
While it's still unclear as to what is causing the fire, many believe that it's a sign that we should all pay attention to the environment to avoid any potential harm. -Kami Media
RELATED: After the thing you see on this picture, you would always look inside the toilet first!
Source: KAMI.com.gh